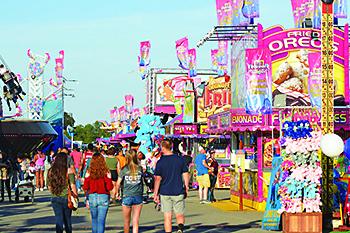 The Fort Bragg Fair is an annual event that takes place every spring and has become a staple for the community. This fair is open to everyone in the area and not just those on Fort Bragg. You don't even need an installation pass to attend.
"The great thing about this event is that it's not just open for our Fort Bragg community, but we open it up to the surrounding community. So it's a great opportunity for our neighbors to come and enjoy it with us," Jen Fayson, special events coordinator of Directorate of Family and Morale, Welfare and Recreation, said.
"They've been coming to Fort Bragg for 30 plus years and they are extremely excited to be back again this year and be able to offer this to Fort Bragg and to Fayetteville, Spring Lake and our surrounding areas."
The fair will run from May 3 to 14 at the Fort Bragg Fairgrounds on Bragg Boulevard. Gates open at 5 p.m. Monday through Friday and at 1 p.m. on Saturday and Sunday.
Admission to the fair costs $16 for the general public and $14 for military and DoD civilians, Monday through Friday. The fair costs $21 for the general public and $19 for military and DoD civilians on Saturdays and Sundays. Children under 36 inches tall are free.
There are special discounts available. On Monday through Friday, $11 Customer Appreciation tickets are available from 5 to 7 p.m. Mothers will also be able to attend the fair for free on Mother's Day, May 14, if they are accompanied by a child 17 years old or younger.
Admission includes unlimited rides and live entertainment throughout the event, although concessions and games are an additional fee. There will be about 28 rides in total and an entire area for younger kids.
"They're bringing back some of the favorite rides," Fayson told Up & Coming Weekly.
"They've got the bumper cars, the Ferris Wheel, of course, and all types of fair food is going to be available for purchase once they get in."
Parking is free and open to the public. Parking is available off Bragg Boulevard. ADA parking is accessible from Bragg Boulevard via Howell Street. There are prohibited items at the fair. This list includes dogs, outside food or beverages, alcoholic beverages, handheld weapons, tents, and glass bottles/containers. The only exceptions to this list are service dogs.
"It's a great family atmosphere at the fair. We do security checks before anybody comes in. I say it's one of the safer fairs that they can go to, and it's just a sense of community. So it's a great it's just a great attitude and a great atmosphere out here at the fair every year," Fayson said.
For more information about the Fort Bragg Fair, go to https://bragg.armymwr.com/calendar/event/2023-fort-bragg-fair/5926373/23406.