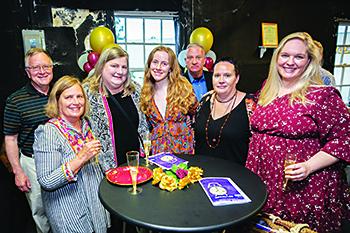 The Gilbert Theater has been a cultural fixture of Fayetteville since its humble beginnings. In 1994 Lynn Pryer founded the Gilbert Theater in the basement of his home. Eventually, it settled into its current location on the second floor of Fascinate-U Children's Museum on Green Street, in the heart of historic downtown Fayetteville where it continues to captivate audiences.
After three decades of producing numerous plays and musicals, the theater is proud to announce its 30th Season.
When asked what he attributed Gilbert's staying power to, Lawrence Carlisle III, Artistic Director of the Gilbert Theater, commented with "Tenacity. Creative honesty. Love. These are a couple of the reasons for the Gilbert's staying power. I took over three months before the pandemic started and decided then that this would not be the thing that brought down the theater. That tenacity in the face of so much uncertainty is a testament to the Gilbert's strength as an arts entity in this town."
The Gilbert Theater's 30th season is set to be an exciting one, with four productions from the past being revisited and one brand new play being performed on the Gilbert stage for the first time.
The four classic productions will include "The Rocky Horror Show," "A Christmas Carol," "In the Blood" and "Assassins."
Alongside these classics, the theater will be showcasing a brand new work, "Ivories," from up-and-coming playwright Riley Elton McCarthy.
Whether you're a long-time fan or a newcomer, the 30th season of the Gilbert Theater is sure to be one to remember!
"For the 30th I wanted to reproduce four shows from our past, and I didn't really have any specific criteria beyond that," said Carlisle. "I tried to pick things with wide appeal, and name recognition. I wanted to choose pieces that, hopefully, the audience would remember the Gilbert's previous production of and that they would be excited to come back and experience it again."
Here is the 2023-2024 30th Season line-up:
"The Rocky Horror Show" (Oct. 6 to 22) is a cult classic for sure and the perfect show for the October slot. "The Rocky Horror Show" is a must-see! This musical pays homage to classic sci-fi and horror B movies and takes the audiences on a journey with newly-engaged couple Janet and Brad, seeking shelter from the rain. What they find is a world of madness and chaos led by the eccentric Dr. Frank-N-Furter. Don't miss the chance to dress up and "participate" in this cultural phenomenon.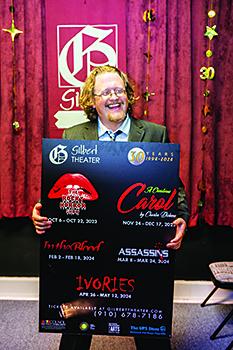 "A Christmas Carol" (November 24 to Dec. 17), an adaptation from Charles Dickens' most beloved story, "The Christmas Carol," is a holiday favorite. Ebenezer Scrooge, with the help of three spirits, is compelled to acknowledge his mistakes and reevaluate his outlook on life. By Christmas morning, Scrooge is filled with gratitude and ready to spend the day with those he holds dear. Let this uplifting classic help you celebrate the joy of family around the holidays.
"In the Blood" (Feb. 2 to 18, 2024) is inspired by Nathaniel Hawthorne's classic novel, "The Scarlet Letter." "In the Blood" is a modern-day narrative of a woman seeking to improve her children's lives while being condemned by her peers. Drawing on many of the same motifs as Hawthorne's book, such as sexuality, social guilt, and a female's endeavor to outrun her past, "In the Blood" additionally deals with motherhood, race and poverty. Written by Pulitzer Prize-winning playwright Suzan-Lori Parks, the production of "In the Blood" will most likely trigger many powerful dialogues well after the curtain falls.
"Assassins" (March 8 to 24, 2024) is a Tony-winning musical written by Stephen Sondheim and John Weidman. It will captivate its audience with its exploration of the lives of nine individuals who attempted to, or succeeded in, assassinating one of the Presidents of the United States. Captivating and haunting, "Assassins" is considered the most controversial musical to ever exist. Expect to be shocked and enthralled in equal measure with original, daring and humorous content.
"Ivories" (April 26 to May 12, 2024) follows Sloane, a playwright, who has gone back to her hometown with her spouse to look after her grandma, who appears to be inflicted with dementia. The longer she stays, and with each passing day, more of her childhood trauma and mysteries begin to surface. Is there something far more diabolical lurking underneath?
So, looking ahead to the next 30 years, what can we expect to come? Carlisle and the staff at the Gilbert Theater hope to see the theater become an outlet for those looking to express their creativity and take risks.
"I hope the Gilbert will continue to be a safe space for the more off-beat shows," said Carlisle. "I hope the Gilbert remains a relaxed atmosphere, conducive to collaborations. And lastly, I hope the Gilbert inspires people to go after their dreams, fight the good fight, and realize that their creative expression matters."
We all look forward to more quality productions from the Gilbert Theater for the next 30 years. We celebrate the theater's dedication to keeping theater in downtown Fayetteville alive and thriving.
The Gilbert Theater is located at 116 Green Street in Fayetteville.
For more information or to purchase tickets, visit www.gilberttheater.com.
All photos by Jonathan Hornby.