Legends Pub will be hosting its Annual Spring Fling the weekend of June 2 through June 4. Their annual benefit event has been hosted at Legends Pub since owner Holly Whitley purchased it about 27 years ago.
Spring Fling began before Whitley owned the pub. She and a group of friends would host parties at Whitley's house and called it the Gypsy Women Spring Fling. It used to be a get-together and then she turned it into a benefit after a friend had a motorcycle accident. It is now their largest benefit of the year.
"We've done this every single year since I bought the place on December 6th of '96, and it's been our largest benefit. Every single year we raise the most money off of this one, takes a lot of work but everybody jumps in and helps," Whitley told Up & Coming Weekly.
"People donate items for auction, bringing side dishes for food. It's generally a very family affair. It's like, you know, just everybody joining together."
This year's Spring Fling will benefit Marsha Bryant, who has been dealing with peritoneal cancer. Peritoneal cancer is a rare cancer of the peritoneum, a layer of tissue lining the abdomen.
"She has done very well with her treatment and we're very happy she found it as soon as she did. She's been fighting this battle since last October. Our process is to do this benefit for her and her husband," Whitley said. "She's been traveling all the way to Winston-Salem to specialists. All these things cost a lot of money when you get on the road like that."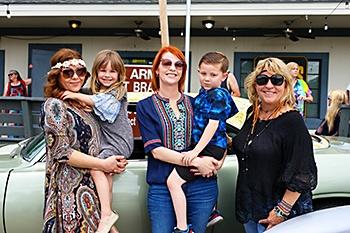 The 2023 Spring Fling will kick off on Friday, June 2 with a pool tournament.
Saturday will feature the Scott Sather Memorial Poker Run, a motorcycle ride where participants stop at designated locations to pick up cards and build the best poker hand. The cost is $10 per person. Extra hands are $5. The event will begin at noon. The Memorial Poker Run is in honor of Scott Sather, who was killed in Iraq in 2001. He was a part of the Legends family. There will be a big picnic and an auction as well that day. Finishing the night will be live music from J.D. and Bill, which starts at 7 p.m. On Sunday, June 4, there will be a bike show. There will be barbecue sandwiches and hot dogs available.
"There is no charge for the food. We do not charge for food because we want everybody to eat," Whitley said.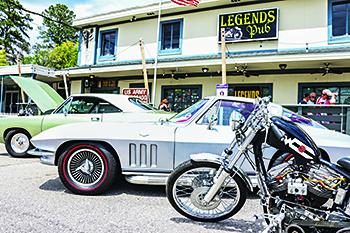 The weekend-long event is open to all ages and everybody is welcome to come. This year's Spring Fling will also be the first Spring Fling for Legends Pub's new manager, Sandra.
"She's been with us for a year. So we're very excited to have her on board. This is going to be her first Spring Fling with us, as far as working. So we're very excited about that. She is, too. She's done a great job over the last year," Whitley said.
Overall, Whitley just wants to give back to the local community. Previous Spring Flings have supported nonprofits like Seth's Wish and the North Carolina State Veterans Home. Other years, they have helped support those who are close to the Legends Pub community.
"We've done a lot for the community. We try to take care of our own. We like staying in our community rather than give it to large organizations because we feel as if people at our organizations in our own area are neglected by larger organizations," Whitley said.
"In our own community, we need a large amount of support to take care of everybody here."
The Spring Fling has raised a significant amount of money to help those in need.
"I would say ... [about] a million dollars that we have raised at that little bar on the boulevard," Whitley said.
"It's amazing what we have accomplished as a group and some people that have been there. I mean, it's a larger amount of people than I can even fathom sometimes that have actually stayed with me for going on 27 years, and always supported our event."
Legends Pub is located at 4624 Bragg Blvd. For more information, call 910-867-2364. You can follow their Facebook page at www.facebook.com/legendspub910.