During times when it can feel difficult to find hope, artist Joshua Carnes said it is important to manufacture it. He hopes to generate hope for the youth of Robeson County during the first ever St. Pauls Arts Demo Day, hosted by the Robeson Art Guild.
The St. Pauls Arts Demo Day, to be held on June 17 from 10 a.m. to 4 p.m. at Bob Everett Park, will provide 100 free canvases, paints and brushes to participants under the age of 18 so they may express their feelings through art.
"We just want to see them create," Carnes said. "At the same time, we're trying to encourage the arts among our youth that if no one will listen, the canvas or page will, and that it's possible to take a negative emotion and turn it into a positive notion and even make a living doing so."
The event will also feature music and art vendors who will discuss their creative process with those present and answer questions about the business aspects of their artistic careers.
Carnes, a professional artist who now mostly sculpts, said he wanted to conduct the event after hearing of recent arrests of juveniles for gun related crimes.
"I got a lot of love to share and I want to give it back," Carnes said. "And there are a lot of kids out there that need help."
Carnes said he got the idea for the special event after having a similar experience in his youth while going through a difficult time. An artist came to his school and handed out free canvases to students. This was the day he painted his first picture, he said.
"Because of strangers — the kindness of strangers— I found my way to the creative process," Carnes said.
Carnes said his inspiration for the event also came from a memory of his son who was saddened after watching a scary and heartbreaking news story.
The two then decided to make their own hope for the world by growing their hair long for the charity Locks of Love, an organization which makes hair prosthetics for children with illness-related hair loss. The father-son pair have since donated their hair nine or 10 times now, Carnes said.
"The idea that you have to manufacture hope — you have to make hope where there is none, that's where this [Arts Demo Day] came from," Carnes said.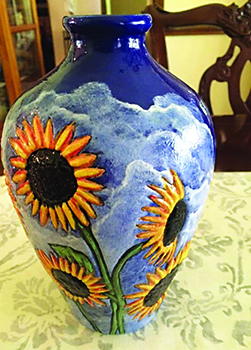 Beyond creating an atmosphere of hope, Carnes said he hopes the young artists at the event are able to take away a sense of pride.
"Shame is a negative thing," Carnes said. "And a lot of us lack confidence. And if we can take and find something to be proud of, I think our lives would be better. And I want these children to know that they should be proud."
The St. Pauls Arts Demo Day will be structured as a paint and picnic event, with participants encouraged to bring blankets or lawn chairs to enjoy the park area as they paint. Carnes hopes this encourages connection and communication between community members.
"What happens when we come together: we bring walls down," Carnes said. "It doesn't matter the political affiliate you are. Art moves everyone. It's going to open up doors."
The arts serve an important function for creators to have the ability to express themselves and share their feelings with viewers, even when words fail, Carnes said.
"If you have problems speaking, then you can do it with a brush, you can do it with a lump of clay," Carnes said. "And communication is where it's at. That's what we need. We need to relate to each other."
Though this is the inaugural Arts Demo Day, Carnes said he hopes it's not the last of its kind, adding the Robeson Art Guild has expressed interest in continuing the event.
Those attending the event are encouraged to bring non-perishable food items for a canned food drive. The First Baptist Church of Hope Mills will be present conducting a coat drive.
The organization Ready, Set, Go, a nonprofit promoting accessible child care which offers programs and resources for children and parents, will also attend the event. Carnes expressed gratitude to Sarah Hayes, Paul Terry and the Robeson Art Guild for their help with the event.