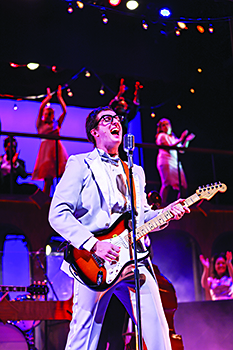 Are you ready for an incredible new theatre season? We certainly are! Cape Fear Regional Theatre is thrilled to announce their lineup for 2023-2024. This new season will be an exciting one, as CFRT has selected an array of shows that are sure to delight theatre lovers from all walks of life.
CFRT has a long-standing reputation for delivering quality theater productions and the upcoming season is no exception. The plays selected are sure to be filled with laughter, heartwarming moments and unforgettable performances.
"This was a fun and also a very complicated season to plan," said Ella Wrenn, CFRT Managing Director. "We want this season to be gangbusters. We want everyone to find something that they're excited about or better yet for everyone to be excited about everything."
Wrenn goes on to say "Because we are on the cusp of the Capital Campaign, this is the year that we really wanted to celebrate what the building has offered to Fayetteville for the last 62 years and also be looking forward into what the next chapter of CFRT is and what live theatre in Fayetteville might look like."
The Capital Campaign is the theater's plan for major renovations and expansion of the current space. Phase 1, which has been completed, was to renovate the auditorium. Phase 2 will be a much larger under-taking and will force CFRT to put on productions off-site since they do not plan on putting a hold on anything during the construction period.
Wrenn feels that operating through a pandemic has helped them put a "guidebook" together of how to put on productions successfully off-site.
"We internally understand what that looks like, what it feels like and how much work it requires. And perhaps even better our audience understands what that looks like and what that feels like. And they know they are still going to have a fantastic time and a fantastic experience."
The hope is that Phase 2 will be completed by Fall 2025. Theme nights and special events pre-show are also in the works for the new season. Up & Coming Weekly pressed Ashley Owen, the Marketing Director of CFRT, for the inside scoop and she did say this about "Addams Family: A New Musical"—"I will say I already know, I don't know what it is going to look like, but we will be doing Wednesday's Wednesdays. I don't know what that means yet. But I know that's going to happen."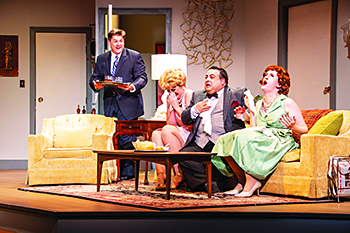 More will be planned for each show as the time for them to open gets closer, usually four to six weeks before opening night. More collaborations with local businesses are also in the works (like Sip Room & District House of Taps were featured in the lobby before "Jelly's Last Jam").
"We love a wine tasting. We love a costume party. We love a popcorn bar … We couldn't do any of that without our community partners."
The 2023-2034 Season
"The Play That Goes Wrong" (Sept. 7 to 24) Your funny bone will be tickled with this hilarious whodunit from the creators of some of Broadway's funniest shows! Witness the chaos unfold on the opening night of the Cornley University Drama Society's production of 'The Murder at Haversham Manor.' It's a 1920s whodunit where everything goes wrong, from unconscious leading ladies to corpses that can't seem to play dead. This side-splitting production will have you laughing until you cry!
Despite the unfortunate circumstances, the actors keep going, and their attempts to reach the final bow have amused audiences worldwide. Drawing inspiration from Monty Python and Sherlock Holmes, it's no surprise that this Olivier Award-winning production will keep you in stitches.
"Addams Family: A New Musical" (Oct. 19 to Nov. 5) The Addams Family is a hilarious treat that celebrates the peculiarities present in every household. The story follows the tale of Wednesday Addams, the ultimate princess of darkness who has grown up and found love in a sweet, smart young man from a respectable family. However, her parents have never met him, and she begs her father Gomez Addams to keep it a secret from her mother Morticia.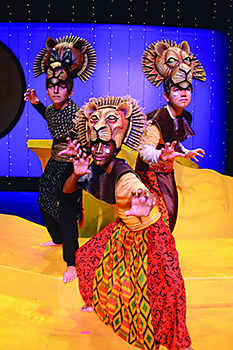 What ensues is a night of revelry and chaos as the family hosts a dinner for Wednesday's "normal" boyfriend and his parents, and things will never be the same again. Audiences will be entertained and delighted by this original story that explores the dynamics of family with a twist.
Inside Scoop: CFRT Artistic Director Mary Kate Burke will be directing this one with Tyce Diorio from "So You Think You Can Dance" doing the choreography. And look forward to CFRT's very own Marc de la Concha as Gomez!
"The Best Christmas Pageant Ever" (Dec. 2 to 17) A staple in the CFRT season, this production is a community favorite. Adapted from a popular Young Adult novel, this play has a fantastic cast of characters, both young and old.
Classic Christmas tunes, heart-warming storytelling and plenty of hilarious moments will make this play your new holiday favorite (if it isn't already).
"Rodgers & Hammerstein's Cinderella" (Jan. 25 to Feb. 18, 2024) Embark on a magical journey as you witness the timeless allure of the classic fairy tale brought to life by the brilliant minds of Rodgers & Hammerstein. Their signature originality, charm and elegance will leave you spellbound.
This version of the show was last seen on Broadway in 2013 and is the perfect blend of fairy-tale romance, captivating stage transformations, and iconic elements such as the pumpkin and glass slippers.
This Tony-nominated Broadway rendition is perfect for viewers of all ages, so gather the family and prepare to be captivated. You're in for an enchanting treat with this spectacular production, so get ready to have a ball!
"King Liz" (March 21 to April 07, 2024) Meet Liz Rico, a sports agent who's dominating the industry with her elite client roster and impressive wealth. But as a woman in a man's world, she's had to work twice as hard to maintain her position at the top. Her ultimate goal is to take over the agency she's helped build.
This is where Freddie Luna comes in, a high school basketball superstar with a troubled past. Liz knows that she has what it takes to guide this talented but volatile young star to success, and in doing so, elevate her own career to new heights. But the question is, what sacrifices will she have to make along the way?
"Sister Act: A Divine Musical Comedy" (May 2 to 26, 2024) When Deloris Van Cartier, the queen of disco, witnesses a murder, she is placed in protective custody in an unlikely hideout — a convent!
Pretending to be a nun, she quickly realizes that the strict rules and the uptight Mother Superior are not her cup of tea. However, with her exceptional disco moves and singing skills, she transforms the choir and breathes new life into the church and the community.
Unfortunately, her newfound popularity exposes her true identity, leading the gang to pursue her. But, Deloris has a secret weapon — her newly formed sisterhood and their unbreakable bond.
Season ticket Flex Passes are on sale now and offer up to a 30% discount. For more information visit the CFRT website at: https://www.cfrt.org/
Three Entertaining Shows at CFRT's Theatre Summer Camp
Before CRFT kicks off the new season in September they have a busy summer ahead with their education department. Three different summer camps with three different age groups, shows and scheduled performances.
Mary Kate Burke (Artistic Director), Marc de la Concha (Education Director) and Jennifer Sell (Education Associate) are all involved with choosing the summer camp shows for the kids.
"The Adventure of Our Lives, So Far!" (Ages 6-9) is a brand new musical, created exclusively for the CFRT Summer Camp.
Each year CFRT commissions writers to produce a play that allows each child to have an "acting part." The younger campers get to experience what it is like to be a part of our production, "Theater 101," as they learn the fundamentals of being on stage, learning to speak in front of an audience along with acting, singing and dancing.
The musical is about a team of youthful archeologists who stumble upon a rare and mystical object, which transports them through time. As they journey through the ages, they discover that they may have taken on more than they can handle. However, with some assistance from newfound companions, they embark on a mission to find their way back home.
"Aladdin Jr." (Ages 10-14) is picked for this age group for the fact that it can accommodate 45 to 50 kids that attend the camp and has enough name recognition that kids of this age are excited to engage and participate.
"Aladdin Jr." is about Aladdin and his three pals — Babkak, Omar and Kassim. They are struggling to make ends meet until Aladdin stumbles upon a magic lamp with a Genie inside who could grant three wishes. Determined to impress Princess Jasmine, Aladdin sets out on a journey that challenges his principles and courage. This fresh retelling of the classic tale features enhanced characters, original songs and more excitement.
"Sister Act" (Ages 15-19) summer camp is where a more professional environment is established and campers get a sense of what would be expected from them in a professional theater setting. They rehearse their show for three to four weeks from 6 to 10 p.m. both as actors on stage and as the production's crew.
Get ready to groove with Deloris Van Cartier, the disco diva who finds herself in a convent after witnessing a murder. As she takes on the challenge of adapting to the strict lifestyle and the uptight Mother Superior, Deloris uses her incredible singing talent and unique disco moves to breathe new life into the church and its community.
All of these great shows are open to the public. To learn more about attending the shows please visit: https://ci.ovationtix.com/36634