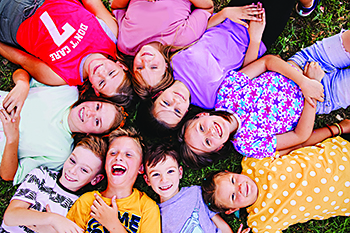 The Cumberland Community Foundation will host a celebratory luncheon with their donors and program organizers that are integral to the Summertime Kids program on Aug. 17 at noon. Kimmi Nettles, Summertime Kids Program Manager, explained more about the celebration and program.
For over 20 years the staff and volunteers of the Summertime Kids nonprofit programs have gathered to celebrate the programs, collaborate and share ideas and resources.
This event is not a fundraiser. It is an invitation only event for the Summertime Kids programs and the donors who provided the funding.
"It's a special way to show appreciation to the nonprofits for their efforts," said Nettles, CCF Program Manager since 2007. This year's celebration is a luncheon.
Nettles says these programs help students obtain social skills including time management, initiating action in new situations, self-confidence, task leadership and interpersonal skills. Nettles said these things have always been important for children and youth but even more today with the rise in social media platforms that have replaced face-to-face interactions, outside play, interpersonal skills and real-life relationships.
"We welcome two representatives from each organization to attend. We also invite the generous donors to the STK program, those that have founded endowments that benefit the STK program as well as our board of directors," she said. "Those in attendance enjoy lunch while hearing the STK grantees share heartwarming stories of the highs and lows of their summer programming."
It is an end-of-summer report and celebration of impact for children. Nettles said there are always happy tears when grantees share stories like how a child overcame a fear by touching a tadpole at Cape Fear Botanical Garden, received a book of their very own from the Cumberland County Public Library, made a friend for life at Camp Rockfish or simply had the best summer ever!
The programs funded provide opportunities for local children and youth, regardless of their financial status. Children learn new skills such as archery, fishing, acting, swimming and golf. Some programs enhance learning through reading and tutoring.
Nettles said the benefits of summer camp include socializing, self-esteem, self-regulation, friendship building, screen-free time, connection to nature, increasing exercise, independence and resiliency, lifelong skills, learning personal growth and creating happy memories.
Every summer since its inception in 1992, over 1,000 children and youth have participated in Summertime Kids programs funded by Cumberland Community Foundation.
"The STK program provides quality programming that simply lets kids be kids," said Nettles.
This year, there were 18 organizations that are supported by the Summertime Kids programs. The STK program ends the first week of August or at the end of the last camp of the participating organizations.
Most of the youth are 1st through 12th graders. Nettles added that there are programs on the list that accepts youth at the age of five.
The Vision Resource Center, Fayetteville Urban Ministry and Cape Fear Regional Theatre are a few nonprofits participating in the program.