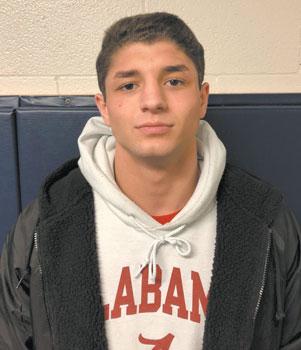 Cape Fear High School wrestling coach Heath Wilson wanted to give his team a test over the Christmas holiday break, but even he was shocked at the grade the Colt squad recorded.
The Colts traveled to Raleigh and Charlotte to take part in two major tournaments, the annual WRAL-TV tournament in Raleigh and the Holy Angels Invitational at Bojangles Arena in Charlotte.
Cape Fear faced formidable opposition in both tournaments and came away with the team championship in both events.
"We want to follow where the talent goes,'' Wilson said.
The WRAL tournament was more than just a matter of seeking good opposition. During the 1980s when Wilson was a state champion wrestler at Cape Fear, the Colts never won the Raleigh tournament as a team.
"That's a bucket list item,'' Wilson said. "If I didn't win it as a wrestler, I wanted to win it as a coach. It was icing on the cake.''
The Holy Angels tournament doesn't have the history WRAL does, but it's grown into one of the state's biggest holiday events over the last several years, Wilson said.
"When they got from 32 to 50 teams it started peaking my interest,'' Wilson said. "We had four of the top-ranked teams in the state from 4-A to 1-A.''
In both tournaments, Cape Fear got solid efforts from a quintet of wrestlers, Jared Barbour at 152 pounds, Dallas Wilson at 132, Josh Jones at 285, Triston Chapman at 126 and defending state champion Michael Vernagallo at 170.
Heath said Dallas and Vernagallo have been pushing each other in practice as partners.
Although he's got four losses, Barbour is still ranked among the top five wrestlers in the state in his weight class.
Through Jan. 1, according to records posted at NCPrepSports.net, Vernagallo is 20-0, Chapman 21-3, Wilson 17-1, Jones 11-0 and Barbour 17-4.
The next big tournament challenge for Cape Fear comes this weekend when it travels to Eden Morehead High School for the annual Sarah Wilkes Invitational.
"That is the trifecta,'' Heath Wilson said of the Eden tournament. "(Hillsborough) Orange will be in it, the defending 3-A state champion.''
Wilson added that the Colts haven't had their full regular lineup on the mat yet this season. The key to success moving forward, he said, will be the ability for his wrestlers to be flexible and compete at different weights.
"That's going to be a good factor if I can get that versatility,'' Wilson said.