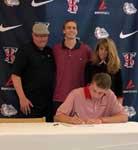 After a season of setting records and leading Terry Sanford to the first Patriot Athletic Conference football title, the Jayne brothers are officially breaking up the band.
Andrew Jayne put the final touches on parting company with twin brother Christian when the former signed a national letter of intent to play football at Davidson College as a receiver. Christian had earlier sealed his commitment to join the baseball team at East Carolina University as an outfielder.
The two made headline after headline as a pass and catch combination for the Bulldog football team, but Terry Sanford football coach Bruce McClelland doesn't think their splitting company will keep them from still making news.
"You put goals in front of them and they just chew them up,'' he said.
Andrew Jayne will be walking into a totally new situation at Davidson as the Wildcats just hired a new head football coach in January, naming Scott Abell from Washington and Lee University to take over the program.
Andrew was recruited by the previous Davidson coaching staff and will try to fit into an offense that emphasizes the triple option and runs sets with two receivers.
"The new staff loves his versatility,'' McClelland said. "He can play tight end or H-back. He still has the speed to play wideout.''
"They made it clear whoever is best will play,'' Andrew said. "They've given me a workout schedule that starts in about two months.''
Though the brothers will be at schools hundreds of miles apart, Christian said they'll continue to be there for each other and always have each other's back.
While he's convinced college baseball was the right choice for him, Christian said he's going to miss being involved with football.
"It's just that whole football atmosphere,'' he said, "leading the team, leaving the huddle. I will miss it, eventually.''
But he's looking forward to starting his career with the Pirates. "I'd like to get at least a 3.5 and come in and start,'' Christian said. "The biggest thing is to get accustomed to the whole college deal.''
Photo: Andrew Jayne, seated, signs national letter of intent to play football for Davidson College. Standing L-R are his father Scott, brother Christian who will play baseball at East Carolina and mother Katrina.