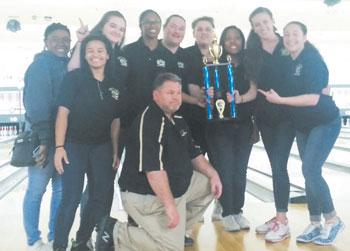 With a core of veteran bowlers returning, Gray's Creek bowling coach Sam Bullard felt his girls squad had a shot at a good season. It just took them until this year's state championship competition at Fayetteville's B&B Lanes to realize it.
The Bears topped Lumberton 295-241 in the finals to claim team honors.
Bullard gave a lot of the credit to seniors Nicolette Kenton, Angel Pope and Jade Wilds.
"They stepped up a whole lot,'' he said. "They came in big when they needed to come in big.''
Bullard said most of his veteran players are also league bowlers and get the benefit of year-round competition. "The year before last they came in runner-up in the state,'' he said. "I knew we would have a pretty good shot at it and just had to have things fall right.''
It looked like that might not be the case after Gray's Creek led the conference bowling race much of the regular season. But when the conference tournament was held, a different format was used from previous years, and Gray's Creek didn't adjust to it well. "It was just a format thing,'' Bullard said. "It caught us on a bad day. I think we could have pulled it out, but that wasn't the way it was.''
Terry Sanford wound up winning the conference tournament, but the Bears still managed to qualify for a bid into the state tournament.
Bullard said Gray's Creek had a little bit of luck in the state tournament, with his team mostly having clean frames and picking up spares. "They were making sure they were getting as many pins as they could and getting to that second ball,'' he said.
Kenton and Pope were particularly impressive for Gray's Creek in the state tournament.
"I got a few strikes and picked up most of my spares,'' said Kenton. "That was good."
A league bowler, Kenton plans to continue competing at the intramural level when she enrolls in college.
Pope has been bowling since the age of five. "The best thing was to keep my composure and bowl well for our team,'' she said. "I tried to get the best pin count as much as possible.''
Winning the state title meant everything in the world to her, she said. "I just really wanted to show how good we are, that we could actually win and put our names out there.''
Pope plans to enroll at Fayetteville State University and become a member of the school's bowling team. "When it comes to bowling, it's a fun thing to do,'' she said.
Photos: L to R: Shantell Jackson, Clarissa Rodriguez, Abagayl Gowen, Jade Wilds, Natalie Freeman, Destiny Delgado, Angel Pope, Nicolette Kenton, Ravyn Rozier Front: Coach Sam Bullard