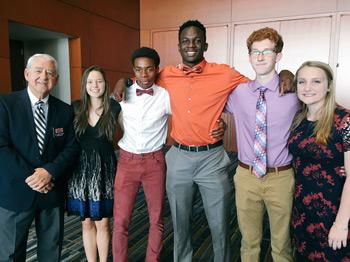 A group of student-athletes and chaperones from Cape Fear High School was among the 258 student-athletes from all over North Carolina participating in the North Carolina Sports Hall of Fame's Salute To Student-Athlete Program earlier this year.
The program recognized students from across the state and exposed them to the many positive lessons to be learned from North Carolina's outstanding sports heritage.
Those attending from Cape Fear included student athletes Mark Burks, Jaylen Hudson, Matt Raynor, Walker Brittain, Amelia Shook and Taylor Melvin. The chaperones included Amey Shook and Kelly Melvin.
A total of 39 different schools from 21 different counties across the state were represented by the student-athletes who attended the program.
The two-day event included a special reception and attendance at ceremonies where the newest class of inductees to the N.C. Sports Hall of Fame were inducted at the Raleigh Convention Center. On the following day, the student-athletes toured the state's hall of fame exhibition at the North Carolina Museum of History and participated in a seminar involving some of North Carolina's most celebrated sports figures.
Speakers at the seminar included former UNCChapel Hill basketball star Phil Ford, former professional football star Jeff Bostic and a special panel discussion featuring several members of the induction class.
The student-athletes were invited to sign up for Hall Pass, a free program that offers special opportunities. Each Hall Pass member receives interesting information about the N.C. Sports Hall of Fame and the state's sports heritage, including a monthly newsletter and special features in advance before the general public. Any student athlete can sign up to become a Hall Pass member by visiting www.ncshof.org and clicking on Hall Pass.
N.C. Sports Hall of Fame members being inducted this year included golfer Donna Andrews, former major league baseball player Scott Bankhead, Olympic speedskater Joey Cheek, former Duke football star Wes Chesson, champion surfer and basketball standout Mindy Ballou Fitzpatrick, football coach and administrator Bill Hayes, college baseball coach Mike Martin, major league umpire Joe West and Charlotte Hornets executive Fred Whitfield.
Posthumous inductees were high school coaching legends Jack Holley and Paul Jones, tennis standout Laura DuPont, former major league baseball players Hal "Skinny" Brown and Jakie May, and former N.C. State baseball all-American Chris Cammack of Fayetteville.
PHOTO: L to R: Dr. Jerry McGee, Lilly Terwilliger, Mark Burks, Jaylen Hudson, Tyler Britt, Amelia Shook.