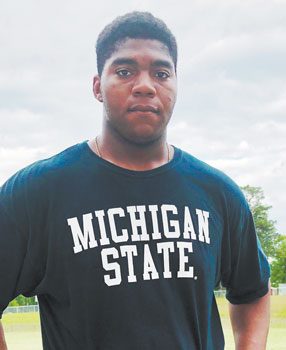 Editor's note: This is part of a series on Cumberland County high school spring football workouts.
After back-to-back 0-11 seasons, Douglas Byrd finally got in the win column last year with a 4-7 record that included 3-5 in the Patriot Athletic Conference. While head coach Mike Paroli was glad to see some improvement, he's concerned that building on the positives of last season will be difficult this fall.
"We really only have eight returners off that team and only four seniors,'' he said. "We had some great seniors that will be difficult to replace. And we have the production of Earlee Melvin, which is very difficult to replace.''
Melvin, who came to Byrd from Cape Fear, sparked the Eagle offense a year ago with a Cumberland County Schools best of 1,713 yards from scrimmage and 20 rushing touchdowns.
There will be a big load on four-year starter John Carroll, a versatile player who could be at quarterback, running back or wide receiver for the Eagles.
As a running back last season, he gained 266 yards and scored three touchdowns.
Alton Simmons, another Cape Fear transfer, will also be counted on at running back. He rushed for 201 yards and three touchdowns for Cape Fear last season.
Another key returner is Zyon McEachin in the offensive line, who will man the left tackle position.
"This year we're trying to continue the legacy Coach Bob Paroli built and trying to give Coach Mike Paroli a legacy to build on,'' McEachin said. "We want to make our record better than we had last year.''
McEachin said the current Byrd football team is committed to growing the program. "We want to try to get connected to the middle schools so we can have some middle schoolers come over and help build the team, make the population better on the team,'' he said. "We have to replace the players that are moving on, fill in the spots.''
McEachin said the goal for this year is to be a better role model for the younger players. "We want to leave a good footprint on the field so they have someone to look up to when we move on,'' he said.
Paroli expects the Patriot Athletic Conference to again be a tough league. "You've got the 4-A teams (South View and Pine Forest) and then Cape Fear and Terry Sanford, which in reality are still 4-A teams,'' he said.
He's not sure Byrd will be a serious contender for the state playoffs this season. "I don't think we're in that conversation yet,'' he said.
"Maybe the year after this one, with only four seniors starting, we should return most of the team, if we can get a good ninth grade class in here and keep them with us.''
Pictured: Zyon McEachin