The months of sacrificing time off during the summer to devote to off-season practice is showing dividends for the Gray's Creek soccer team.

This year the Bears swept the regular season and tournament titles in the Patriot Athletic Conference, and opened play in the North Carolina High School Athletic Association 3-A state playoffs with a 4-2 overtime win against Asheboro.
At this writing, Coach Bryan Pagan's team, 19-5, is waiting to find out who it will play in the second round of the NCHSAA playoffs, either Wilson Fike or Pittsboro Northwood, in a game that was tentatively scheduled for last Saturday.
Pagan thinks, as far as chemistry is concerned, the Bears have reached their stride offensively. He feels the strength of this year's team is being able to possess the ball.

"We pass really well,'' he said. "Our Achilles heel the whole year has been finishing. For whatever reason things are starting to click. Guys are moving in the right positions, staying onside.''

The Bears have struggled with a variety of injuries during the season, but some of the ailing players have healed, and Pagan has been able to plug in less experienced players in key positions who have stepped up, like sophomores Connor Boyle and Vancy Ruiz.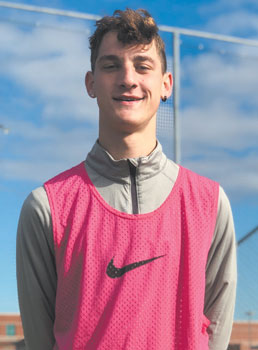 Another key performer is veteran goalkeeper Ryan Dukes, a senior. Through Nov. 2 according to the statistics at NCPrepSports.net, he had recorded 94 saves while allowing 16 goals. "He's done an amazing job for us as well,'' Pagan said.

Offensively, Pagan feels a strength of his team is it doesn't rely on one player to score all the goals. Eric Chavez is the team leader in goals through Nov. 2 with 16.

"It really takes a lot of the pressure off,'' Pagan said of being versatile scoring. "People take a little more ownership when they know it's collective rather than one or two individuals.''

Two players who play a critical role in helping distribute the ball for the Bears are James Faatz and Seth Wallace.

Pagan describes Faatz, a center-midfielder, as a player crucial to maintaining possession of the ball.

"If it gets to him he knows where to get it to,'' Pagan said. "He's calm on the ball, makes good decisions for us and is kind of a catalyst. Anything we need to bail out or need somebody to facilitate the middle he's a great option for us.''
The other key performer is Seth Wallace, who plays on the wing. "He's done a great job winning stuff on the outside and serving stuff into the box in dangerous areas,'' Pagan said.
"He's inspiring, super, super athletic and you're not going to beat him off the dribble. He's a strong kid.''
Faatz agrees with Pagan that chemistry is a strong point of this Gray's Creek team, with communication and good passing also being key.

He thinks the key to success in the postseason is intensity. "I think if we come in hot in the first half, the first ten minutes, and pop a few goals in we can be dangerous against any school in the playoffs,'' he said. "We can show that Cumberland County has some pretty good soccer schools.''

While Cumberland County doesn't have a public high school with a rich state playoff tradition in soccer, Wallace thinks the Bears have the potential to make some noise.

"A Gray's Creek team like this could surprise some people and have some future upsets,'' Wallace said. "We were kind of rocky at the beginning of the year with our finishing. We've definitely had some people step up and other people growing into roles because of injuries.

"We're not a one-man team. Everyone has a role.''

Looking to the remainder of the state playoffs, Pagan said he's learned the postseason has a lot to do with seeding and tackling each matchup.

"I like our chances this year because we are more well-balanced than we've been in the past,'' he said. "I feel like we can hold teams to low scores and score when we need to.

"Our strength is in the middle of the field and in our possession. That gives us a fighting chance to match up against anybody. If we stay uninjured we have a chance to make it pretty deep in the playoffs.''

Picture 1: James Faatz
Picture 2: Seth Wallace