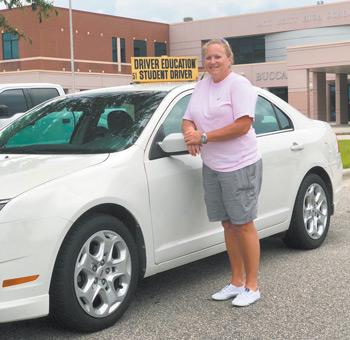 When asked how she planned to celebrate her Jack Britt softball team winning the state 4-A fastpitch championship last month, Buccaneer softball coach Sebrina Wilson said she was going to spend the summer doing something that sounded anything but celebratory.
She'll be teaching driver's education.
Not exactly a trip to Walt Disney World for a ride on Space Mountain, but Wilson said it's something a lot of coaches in Cumberland County Schools choose to do with what would normally be their summer vacation.
Wilson also teaches driver's education in the fall. In the spring, while softball season is in full swing, Wilson drives before the school day starts so she'll be free after school to coach the softball team.
Her summer schedule, which started June 18 and will continue until school resumes in August, consists of classroom instruction in driver's education from 7 a.m. until 11 a.m. and actual driving time with student trainees from 11 a.m. until 2 p.m., Monday through Thursday.
"I like having a three-day weekend because it's been a long school year with softball going into June,'' she said.
For classwork, Wilson and her fellow driver's education teachers use the Drive Right curriculum, which takes students through the controls of the car and the rules of the road, including all manner of situations that might come up on the highway. Students have to pass a 100-question test as well as a sign test similar to the one given at driver's examination offices operated by the state of North Carolina.
Her classes vary in size from 25 to 40 students. Most of them are just under 15 and haven't actually attended high school before, arriving from middle school. There are often older students in the class, some who have waited until later to take the course and others who have transferred in from another state where they only have a state permit to drive and need to take the North Carolina course.
After the mandatory 30 hours of classroom instruction, the final, crucial part of passing driver's education is the required six hours of driving time. How quickly that progresses is a decision made by both instructor and pupil, Wilson said. "If they are not comfortable leaving the parking lot, you don't put them on the open highway,'' Wilson said.
That isn't done until both pupil and instructor feel the student is ready for the experience of being on a real highway.
"A lot of the kids have some sort of driving experience because we have so many four-wheelers, go-karts and golf carts,'' she said. "They have a little bit of knowledge on how to do some of the things. They've just never been in a vehicle to apply them.''
Wilson usually spends the first day of driving in the parking lots at Jack Britt. If things progress smoothly, the second day can take the young driver into the neighborhood by the school, followed by open highway driving on the third day.
In the final days of driving, they'll experience the Martin Luther King Jr. Freeway and get a taste of exit and entry ramps. Wilson also takes her students to downtown Fayetteville for a drive around the Market House to experience city traffic.
The only control Wilson or any other instructor has over the car is a brake. There's only one steering wheel, and that's for the student.
There is a lot of pressure on the instructor because if there's an at-fault accident, the penalty falls on the instructor as the only licensed driver in the vehicle.
"It makes you stay alert,'' Wilson said. "We can't be distracted. It's made me a better driver. I focus on a lot more things on the highway and it forces me to teach the kids how to focus more.''
For Wilson, that means all cellphones are put out of reach before driving begins. "We don't want you texting or being distracted,'' she said.
Wilson said she sees similarities between her job in driver's education and her role as a softball coach.
"In softball, you try to teach them and coach them to make the right decisions,'' she said. "You have to be more tactical because you want to make sure the kid has the best experience. That's what we really try to do.''
PHOTO: Sebrina Wilson