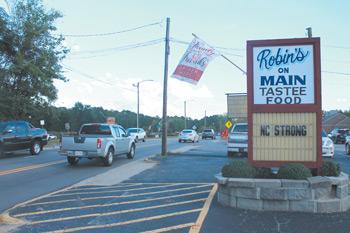 Hope Mills residents should consider buying a new pair of walking shoes because they're going to be getting some more sidewalks.
The town of Hope Mills has been awarded a grant from the Fayetteville Metropolitan Planning Organization to build sidewalks from Johnson Street near the Robin's on Main restaurant down to Trade Street.
The sidewalks will be on the opposite side of Main Street from Hope Mills Lake, said Chancer McLaughlin, development and planning administrator for the town.
McLaughlin said the grant from FAMPO is for a little under $400,000. It's what's known as an 80/20 matching grant, which means the town will add about $80,000 to the project.
This newest grant will allow for a continuation of a project already underway that's constructing sidewalks near the Hope Mills town offices on Rockfish Road.
It will extend existing sidewalks in the downtown area and make it possible, once completed, for people to walk via sidewalk all the way from the town hall area to the restored Hope Mills Lake.
"It will possibly cut down on traffic and create a safer balance between vehicular and pedestrian traffic,'' McLaughlin said. "The main goal is to create a more pedestrian-friendly environment, connecting the town of Hope Mills.''
In addition to the sidewalks, the grant will help pay for some enhancements on Main Street, McLaughlin said.
"We are going to do a major crosswalk installation at Johnson and Main because there is no crosswalk now,'' McLaughlin said. "We are also going to do a raised mid-block crosswalk halfway between Johnson and Trade Street. At the intersection of Trade and Main, we're going to do a major enhancement, adding more pedestrian signals.''
Now that the grant has been awarded, McLaughlin said the new sidewalk project for Main Street is in the design phase and there is no timetable yet for when the sidewalk construction will actually begin.
"We are moving forward and filling gaps,'' he said of the various sidewalk projects going on. "We're applying for another grant in November.
"This is not a one-time thing and by no means (is it) the end of the road. It's the beginning.''