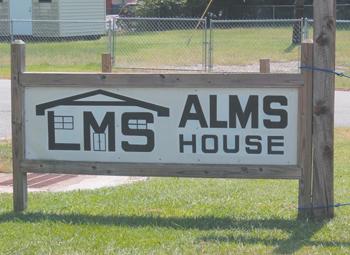 A tradition that started in 2009 at the Hope Mills ALMSHOUSE will continue this Thanksgiving Day, Nov. 22, as volunteers at the ecumenical community ministry will again serve a traditional Thanksgiving meal to those in need in the community.
Grilley Mitchell, volunteer program coordinator for the ALMSHOUSE Love Lunch program, said the Thanksgiving meal was such a big hit when it was first tried that the ALMSHOUSE has made it an annual event.
Regular meals are part of what the ALMSHOUSE does, serving food Monday through Friday at noon and 5 p.m. and on Saturday at noon and Sunday at 5 p.m.
Mitchell said the only difference at the Thanksgiving meal, which will start at noon and continue until the food runs out, is the fare focuses on the traditional Thanksgiving dinner.
Mitchell said this year's meal is planned to include turkey, ham, candied yams, green peas, green beans, macaroni and cheese, potato salad and desserts.
Community support and a variety of donations make the special meal possible, Mitchell said.
ALMSHOUSE volunteers prepare and serve the food. In some cases, Mitchell said, whole families come in to take part in helping with preparation.
"They want to do something to serve and teach their kids how to give back,'' Mitchell said.
There are no restrictions on who can show up to take part in the meal.
"Anybody that needs a meal and wants a meal is served,'' Mitchell said. "We do not turn anyone away. Show up and let us serve you.''
Anyone who would like to make a contribution of food or money to support the ALMSHOUSE ministry can drop by during normal business hours Tuesday, Wednesday and Friday from 9 a.m. until 11:30 a.m. at 3909 Ellison St. or contact Mitchell directly at 910-476-3719.
"Come out and enjoy,'' Mitchell said. "We give each and every one love and respect.''