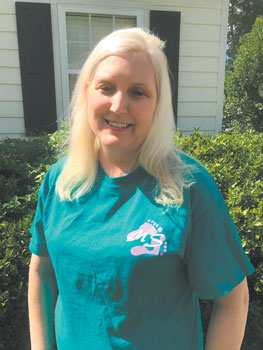 Linda Lockamy is gearing up to put on the 10th Tee It Up For MS Charity Golf Tournament. It will be held Friday, Oct. 11, at Cypress Lakes Golf Course.
But Lockamy's passion for the event is just as strong as it was at the first one in 2009.
That's because her commitment to raising money for the fight against multiple sclerosis is personal, starting 18 years ago when her daughter, Mandy Lockamy, was first diagnosed with the disease.
Currently in remission, the younger Lockamy's condition has been improved by an assortment of MS drugs, including an infusion of a new medication a few years ago that nearly halted the disease in its tracks.
But as Linda Lockamy noted, while Mandy's condition is improved, she's not cured. She continues to take medication for headaches and fatigue related to the MS, and she takes a special medicine designed to help her walk.
Many of her treatments have come from the research that money from events like the golf tournament have helped to fund. Since it was created, Linda Lockamy said the tournament has raised about $72,000 for the fight against the disease.
For Linda Lockamy, it all started in 2002 when friends of Mandy told her about the local MS Walk. Linda formed a team and has participated in the walk ever since.
But she wanted to do more, and she got her chance when she got a call from the former Beef O'Brady's restaurant about sponsoring a charity golf tournament.
The original plan was for the benefit to rotate among local charities, and MS would be the focal charity once every three or four years.
While she appreciated the help, Lockamy soon realized one tournament every three or four years wasn't enough.
"There were so many people in that first golf tournament that knew people with MS, we said we can't wait three or four years,'' she said. "We need to do this every year.''
And that's what happened, save for one year when Mandy Lockamy was undergoing treatments. Since the first tournament in 2009, save that one year, the MS golf tournament has been held every October at Cypress Lakes Golf Course.
"We've got people that have played in every tournament,'' Lockamy said. "I have people call me in late summer asking when the tournament is and do you have it scheduled yet.''
The cost of this year's tournament is $300 for a four-man team. The entry fee includes lunch, a goody bag, beverages and a dinner.
Registration opens at 11 a.m. the day of the tournament with a noon shotgun start.
While the deadline for registering is one week before the tournament is held, Lockamy said individual players often show up the day of the tournament to see if they can get on a team and no one has been turned away.
For those who don't play golf, some companies have paid sponsorship fees for first responders, allowing them to play. Hole sponsorships are also available for $100 a hole. If a team in the tournament sponsors a hole, the cost of the sign is only $50.
Registration forms are available at the Cypress Lakes clubhouse and on Lockamy's Facebook page, Linda Swanson Lockamy. You can email her at swanlock74@aol.com or call 910-977-8662.
Pictured: Amanda Lockamy