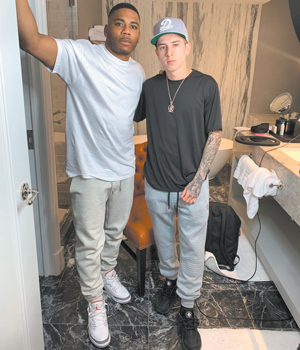 It's barely been three years since Victor Fontanez was a South View High School senior with a dream.

Today he's a barber to celebrities based in Atlanta and looking to continue growing his brand at the still youthful age of 20.

His story starts like the story of a lot of young people from his generation. As he approached his final days at South View, his plan was to follow the path of many of his classmates and enroll in college.

All his fees were paid at UNC-Pembroke and he was about to enroll when he started thinking of ways to make some money on the side to fund his college dreams.
He was working at a restaurant in Hope Mills, washing dishes and waiting tables, but he didn't plan to continue that job in college, so sitting in the chair at his barber's one day, he asked the barber for advice.

"He told me if I learned to cut hair, I could make money the rest of my life,'' Fontanez said.


So in his senior year, he started giving haircuts in his mother's garage and planned to continue doing the same thing during his college days to serve as a way to make a few dollars on the side.
But something happened. Cutting and styling hair became more than a way to make money. Fontanez found himself falling in love with what he was doing.

"By the time I was ready to graduate, I knew this was the path I wanted to take,'' he said. "God definitely put me on that path."

At the last second before enrolling at UNC-Pembroke, he got all of his money for his college tuition refunded. He went to Fayetteville Technical Community College, enrolled in barber school, and as he put it, never looked back.

Upon graduation from FTCC, he took a job at a small shop in Hope Mills and continued to hone his skills.

After about eight months there, he realized if he wanted to continue to grow his brand, Hope Mills wasn't going to be a large enough arena for him to compete in.
"You've got to feed the beast,'' he said. As much as he loved home, he felt the need to pursue wider opportunities for himself.

He saw Atlanta as a perfect fit. "It was close to home and still a Southern state,'' he said, "plus all the opportunity for celebrity clientele and athletes.''

He moved there cold turkey, as he put it, with no family or friends to turn to for assistance, save one important contact.

One day while he was still working at the restaurant in Hope Mills, a young man who had recently been chosen in the NBA draft happened to stop by the restaurant to eat. It was Dennis Smith Jr., who currently plays for the New York Knicks.

When Smith went to the restroom, Fontanez waited outside to introduce himself.

He told Smith that he was a barber, and that if Smith ever needed to have his hair styled to look him up. Fontanez reached in his wallet and pulled out the last business card he had and handed it to Smith.

"At the end of the day, it's all about building relationships,'' Fontanez said. Since that meeting, Smith has been a friend and supporter of Fontanez and his business. While Smith was with the Dallas Mavericks, Fontanez flew to Dallas and cut hair for the team prior to one of its media day events.

He's got a long list of celebrity clients, including stars like the rapper Nelly, Trae Young of the Atlanta Hawks and the body guard of the late rapper Nipsey Hussle, among others.

Fontanez said as far as what kind of stylist he is, you can't limit it to a single cut or type of client. "Every haircut is individually designed for that person,'' he said. "There isn't one style for everybody.''

If he has a preferred style, Fontanez said he leans toward clean, shaped lines. But his real concern, beyond making sure each customer has the right look, is continuing to build his brand in Atlanta and beyond.

"I believe in God's pace,'' he said. "I can't really tell where I'm going to be next. As soon as I finish accomplishing what I need to accomplish in Atlanta, another door will open for me. For right now, I'm focused on what I need to get done in Atlanta.''

In addition to his job as a hair stylist, Fontanez continues to grow his name in his role as an ambassador for BaByliss PRO, a line of hairstyling tools affiliated with Conair.
Looking to the near future, Fontanez wants to set up a foundation to hold workshops in Fayetteville and other cities to show other young people like himself how to become entrepreneurs and turn their craft into a brand like he has.

"It started out with just being able to give somebody a haircut,'' Fontanez said. "I made them look good and feel good. Now I want to share that message across the world and affect other people in different parts of the world.

"I enjoy the impact. I feel I've been given a lot.''

Picture 1: Rapper Nelly (left) with Victor Fontanez (right)
Picture 2: Atlanta Hawks basketball player Trae Young