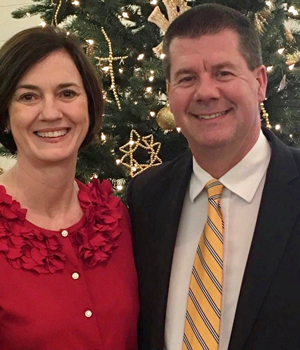 The Rev. Danny Anderson hails from the state of West Virginia, but his entire preaching career has been spent in North Carolina.He recently added Highland Baptist Church in Hope Mills to his resume as he became the church's pastor in mid-February.

Anderson and his wife Lisa came to Hope Mills after previously serving Baptist congregations in Carteret County, Havelock and Pollocksville.

He also attended college in North Carolina, studying at Gardner-Webb University in Boiling Springs. He graduated from Newburgh Theological Seminary in southern Indiana near the border with Kentucky.

Anderson said other churches had approached him but he felt the calling of the Lord to choose Highland Baptist. "We took to the people immediately,'' he said. "As things progressed, the Lord just took care of it.''

Anderson's pastorate at Havelock brought him in contact with military personnel at the Cherry Point Marine Corps Air Station. He feels that experience will help him connect with both active and retired military from Fort Bragg who live in the Hope Mills area.

"I've learned from that how to be in a community that's military-based, very patriotic and loves their country,'' he said.
While Anderson doesn't take a cookie-cutter approach to working with each pastorate he's served, there is a basic order of settling in that he follows.

"I see what the needs are, either being filled or needing to be filled, and take a plan of action from there,'' he said.

Anderson said the emphasis of his ministry is one-on-one. "Everywhere I've been in smaller areas I've gone door-to-door,'' he said. "I made sure my card was in each house.''

His approach is to find out if they have specific prayer concerns, while at the same time trying to establish a rapport without being too intrusive into their private lives.
"That will be most likely what I'll do immediately,'' he said, "get the word out that I'm in the field.''

As far as working with the staff at the church, Anderson prefers a team effort and reaching out for suggestions on what's needed to best serve the congregation.

"I do trust the people we have on staff, their calling in different areas,'' he said. "My managerial approach is not to micromanage. I generally allow people to use their gifts, getting all those talents together, everybody contributing a certain part to the puzzle to meet the needs.''

Anderson estimates it will take anywhere from six months to a year for him to become comfortably educated about the Hope Mills community, learn all the names and get a feeling for the local culture.

Once that happens, he'll feel more comfortable about instituting any major changes that might be needed. "I'm not one to change or institute things for the sake of instituting something,'' he said. "If it ain't broke, don't fix it.''

Anderson said his main concern will be building relationships. "People are people,'' he said. "Human nature is human nature.

"Just being there at the time of need and developing that trust is basically the way I approach it.''