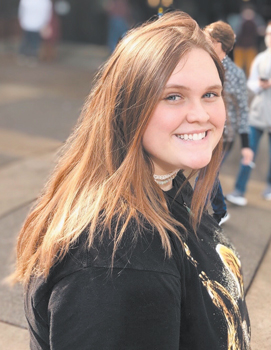 No one can accuse the officers of the Gray's Creek chapter of the National Honor Society of cutting corners when it comes to community service projects. Just ask Becca Collins, a Gray's Creek senior.

Each year, when they apply for membership in the National Honor Society, Gray's Creek students are required by club sponsor and faculty member Melissa Bishop to submit a detailed plan for their senior project.

Bishop said the plan must include a timeline, a budget and resources among other things. "When they are chosen, they get members of other National Honor Society Members together and pull off the project,'' Bishop said.

For her project, Collins is following in the footsteps of her former Gray's Creek softball teammate and fellow National Honor Society member Drew Menscer.
Last year, Menscer took on the project of organizing a fund-raising golf tournament for Rick's Place.

Rick's Place is located on 50 acres of land in the western part of Cumberland County. It is named in memory of the late Sgt. Richard J. Herrema, a Fort Bragg soldier who was posthumously awarded the Bronze Star, Purple Heart and Defense Meritorious Service Medal.

He died in combat during Operation Iraqi Freedom in 2006.

Bishop said the mission of Rick's Place is to host family events for soldiers and support them before, during and after deployments.
"Becca wanted to carry on the golf tournament that Drew did last year,'' Bishop said.

Bishop said Gray's Creek originally chose Rick's Place as a beneficiary of their charity work after they spent a couple of days on the property. "We love their mission and what they stand for,'' Bishop said.

Collins, like Bishop, has a strong feeling for the mission of Rick's Place. "It's one of the only military places in Fayetteville that really does a lot of hands-on things with military people,'' she said. "People can bond with their kids. I really feel the golf tournament can be a big thing to help them.''

Last year's event raised $5,000 for Rick's Place. Collins hopes to equal or increase the amount raised at this year's event. It is scheduled for Saturday, March 21, at Cypress Lakes Golf Course.

For those who don't play golf, hole sponsorships are available at $100 per hole. If anyone wants to make a donation in support of the tournament, those can be dropped off for either Collins or Bishop at the front office of Gray's Creek High School during regular business hours. "We need a lot of help from the community,'' Collins said.

Bishop said getting people to undertake sponsorship of a golf tournament is a huge undertaking for a high school student, but she's confident that Collins can make it happen.

"Becca has a wonderful supporting family,'' Bishop said. "I know her mom (Dawn Collins) has helped her reach out to businesses and make fliers. Becca has been doing a lot on the creative side.''

Bishop said Becca and her family have been part of the Gray's Creek community for many years. "I know the community is pitching in around them,'' she said. "A lot of the community is small business owners. They love to donate to charities that benefit our soldiers right here in Fayetteville.''

The work of promoting the golf tournament will provide valuable experience to Becca and the members of the committee that will be working with her Bishop said.
"They are often making cold calls to local businesses,'' Bishop said of the students. "They have to have their pitch for why this is so important and why it would benefit companies to donate. They are learning a lot of real life business and marketing tactics and just how to talk to people in the community.''

Check-in time for the tournament is at 7:30 a.m., and the tournament will begin with a shotgun start at 8:30 a.m.

There is no limit on how many teams can sign up for the event. The entry fee is $65 per person or $260 for a foursome. The format of the tournament is captain's choice.

The entry fee includes lunch and a golf cart.

Early bird registration is underway by emailing either Collins or Bishop. Their addresses are rebcol3577@student.ccs.k12.nc.us or melissabishop@ccs.k12.nc.us.