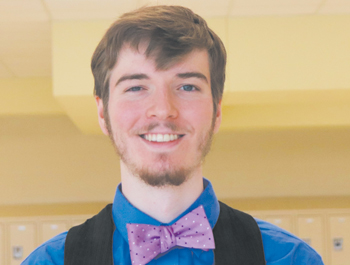 Gray's Creek High School senior Theodore Schwamm recently joined an elite group of high school students in the United States. He's one of 15,000 national finalists for the elite National Merit scholarship.

Shana Matthews, who counsels the academically and intellectually gifted students at the schools, said Schwamm is the first National Merit finalist from Gray's Creek in her four years at the school.

"The scholarship is a nice incentive, a nice bonus, for someone like Theodore who has put in a lot of effort and devoted a lot of time,'' Matthews said.

A Fayetteville native, Schwamm said his primary interests are vocal music and theater. He plays the piano and is also a handbell player in his church choir.

Even if he's not ultimately named a winner in the National Merit competition, just being a finalist makes him a potential candidate for other college scholarship offers.

Schwamm said a number of colleges have already offered him full scholarships, but he's currently not considering those because they are from schools he doesn't consider a good fit for his interests.

He's officially applied to four colleges. They include his top two picks, Williams in Massachusetts and Kenyon in Ohio. Others he has applied to are Roanoke in Virginia and the University of Chicago.

Of the four, he's already been accepted at Roanoke and is expecting word back soon from the other three.

Schwamm said the main draw for him at all four schools was their liberal arts atmosphere and the flexibility and interdisciplinary approach they take to education.

As far as what he plans to study is concerned, Schwamm isn't sure if he'll continue with music and theater or turn his attention to physics and mathematics. "I may combine them in some way,'' he said.

He's interested in the connection between the arts and sciences and why they have so much in common. "Einstein would often say he'd play the violin while working through physics problems,'' Schwamm said. "A lot of scientists say if they were not professional scientists, they would be artists.''

Schwamm is currently involved with the Gray's Creek High School production of the Broadway musical "Newsies." Performances are scheduled March 20-21 at 7 p.m., with a matinee on March 22 at 4 p.m. Admission is $10.

In recent years, Schwamm has changed his philosophy about his education and realizes balance is an important part of the process.

"Certainly I could spend time endlessly looking at calculus problems,'' he said. "There comes a time you need to recognize moving away from it and doing something else will ultimately be more valuable.''

Toward that end, he plans to spend his final summer before college at home with family.

"I plan to sleep without an alarm many days and do a lot of reading,'' he said.