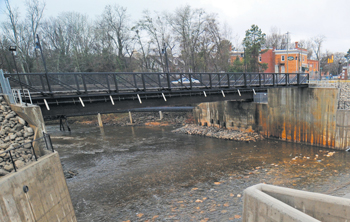 The town of Hope Mills got a piece of good news recently when it was announced the pedestrian bridge at Hope Mills Dam passed a first-ever safety inspection with flying colors.

Don Sisko, head of the Hope Mills Public Works department, said the pedestrian bridge, which is a little more than 10 years old, had never been inspected as far as he knows. Sisko added the bridge is actually not subject to any statutory requirement that it be inspected.

"We did it as a prudent measure to help ensure resident safety and make sure it is a sound structure,'' Sisko said.The town hired the engineering firm of Vaughn and Melton out of New Bern to handle the inspection, which was conducted on April 8.

Sisko said Vaughn and Melton is a firm used by the Department of Transportation toconduct roadway bridge inspections around the state.

The Hope Mills pedestrian bridge is what's known as a truss bridge and spans 126 feet, 3.5 inches across the creek bed below the dam.

Sisko said national bridge inspection criteria includes a variety of things like superstructure, substructure, the deck, the channel, waterway adequacy, approaches and alignments.

The bridge is largely used by people who are visiting the Hope Mills Lake Park, Sisko said, and there's no measure available of the number of people who walk across it during the course of a year. The bridge is meant to be used only by pedestrians, not by anyone on a wheeled vehicle like a bicycle.

The lifespan of the bridge is largely dictated by the weather and the maintenance that is performed on it, like fixing a broken weld on one of the trusses that help provide the bridge's support.

Sisko said the engineering firm put a ladder in the creek bed below the bridge to examine it from underneath.

All of the various aspects of the bridge Sisko listed earlier were examined by the inspectors and given a number grade from zero to nine. A nine is usually reserved for a new bridge in excellent condition.

Sisko said the Hope Mills bridge got grades of seven and eight across the board.

Looking ahead, Sisko said the town will schedule inspections of the bridge biannually, meaning the next one will occur in 2022.

"It will help us keep on top of things,'' Sisko said.