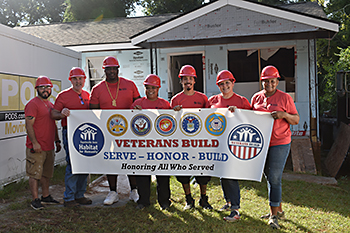 Fayetteville Area Habitat for Humanity is reaching out to the local community, calling for volunteers to join hands in their upcoming Veterans Build event.
The opening ceremony is set to take place on Nov. 3rd at 9 a.m. at 607 Link Street, and the organization is inviting residents to actively participate in this noble cause.
Veterans Build is more than just constructing houses; it's about building bridges, creating opportunities, and showing gratitude to the brave men and women who have served our country.
By volunteering for this event, community members can contribute directly to providing affordable and comfortable housing solutions for our deserving veterans.
"We believe in the power of community. When we come together, amazing things can happen," said Rick Callaway, veteran and chief operating officer of Fayetteville Area Habitat for Humanity.
"We are inviting the community to join us in this meaningful initiative. Your time and effort can make a significant impact on the lives of our veterans."
Volunteer opportunities are available from Nov. 3rd through the 9th. No prior experience is necessary, as training and guidance will be provided on-site.
This is an excellent opportunity for individuals and groups to give back to the community, learn new skills, and forge connections with fellow volunteers who share a passion for making a difference.
The opening ceremony on Nov. 3rd will not only be a celebration of the progress made but also a launch pad for future endeavors. Fayetteville Area Habitat for Humanity encourages everyone, regardless of their background or expertise, to join the cause and be part of this transformative experience.
To volunteer for the Veterans Build event or to learn more about how you can get involved, please contact Kelly Rodriguez, Faith and Community Relations Director, Fayetteville Area Habitat for Humanity, at fcr@fayettevillenchabitat.org or by calling 910- 483 – 0952.