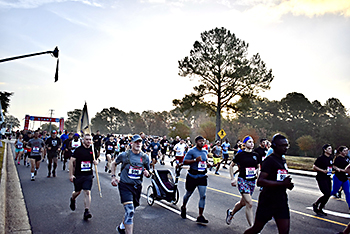 Fort Liberty is hosting its 27th Annual 10 Miler on Nov. 4. This event is open to the public. The race will start at 8 a.m. at Hedrick Stadium on post.
Fort Liberty's Family and Morale, Welfare and Recreation holds the run as part of its effort to promote a healthy, active lifestyle within the Fort Liberty community.
Amanda Cahill, the Special Events Coordinator for the Directorate of Family and Morale, Welfare and Recreation, says this event is great for recreational health, not just for the military community but for the surrounding community as well.
"This is an event we have annually that enhances the health of the community. We have about 1,000 runners participate," Cahill said.
Runners who place in their category will win a challenger coin.
Registration for military servicemembers and family members is $40, and for civilians is $50. All registered participants receive a finisher's medal, t-shirt, custom bib and beverage of choice.
Participants must be at least eight years of age. Pets are not allowed to run. Strollers are welcome; however, those who run with strollers should start toward the back of the crowd when the race starts.
People can register to run alone or as part of a team. To register as part of a team, there must be at least eight other runners participating with you in the team. Teams can be single-gendered or co-ed.
The deadline to register is Nov. 3 at 8 p.m. There will be no race-day registration. Runners can pick up their packets on Nov. 3 at the Fort Liberty Fairgrounds from 8 a.m. to 7 p.m. The packet will include the shirt and bib.
There will be overall awards for top male, female and wheelchair finishers. There will also be team awards and age group awards. After the race, there will be a "Finish Fest" where sponsors will have tables and information, along with food and beer.
"We just want to encourage everyone to come out, even if you don't participate in the actual race. Encourage everyone to come in and be supportive and watch everybody and cheer them on," Cahill said.
Longstreet Road and Gruber Road up to Zabitosky Road will be closed from 6 to 11 a.m. to accommodate runners.
Registration for the race can be done online at https://zippy-reg.com/online_reg/?e=1918.
For more information about the race, visit https://liberty.armymwr.com/programs/10-miler or call 910-908-5977.
Visitors requiring a pass for access to Fort Liberty can now apply for passes online. More information about the virtual passes can be found at https://home.army.mil/liberty/about/garrison/directorate-emergency-services/visitor-access-center.