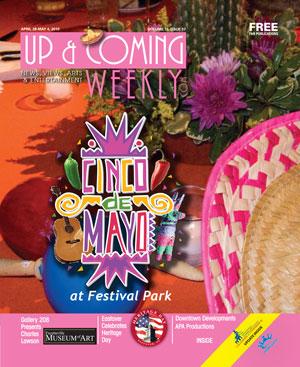 May is a special month for Julio Ramirez. Since 2002, he has put on a road race in downtown Fayetteville every May to celebrate Cinco de Mayo. Since that fi rst race, he had a dream for something bigger and better, but his service in the Army prevented him from bringing it to fruition.
With his military service behind him, Ramirez now has the time (and boundless energy) to bring the Cinco de Mayo Festival that he's always dreamed of to Fayetteville and to share his Latino culture with the community.
"Cinco de Mayo, for a lot of people has always been about partying and drinking and that is not what I want to show," said Ramirez. "There is more than that. It is not about the Mexican Independence day either like so many people think."
According to Ramirez, the holiday of Cinco De Mayo, May 5, commemorates the victory of the Mexican militia over the French army at The Battle Of Puebla in 1862. It is primarily a regional holiday celebrated in the Mexican state of Puebla, particularly in its capitol, Puebla, with some limited recognition in other parts of Mexico, and especially in U.S. cities with a signifi cant Mexican population. It is not, as many people think, Mexico's Independence Day, which is actually Sept. 16.
As Fayetteville's inaugural Cinco de Mayo celebration takes off, Ramirez planned a celebration that spanned an entire month. Through out the month of April there was a beauty pageant, held each Friday evening at the Speak Easy Night Club in Fayetteville. The fi nals of the competition will be on May 7. The top three contestants will each receive $1,000. Winners will be crowned during the festival on Sunday, May 9.
On Saturday, May 8, the John E. Norman road race, which has become a much anticipated event in the Fayetteville racing scene, will kick-off the festival. Named for Ramirez's friend, a portion of the proceeds will go to the John E. Norman College Fund.
"John was my friend, and he passed away in 2005," said Ramirez. "He never asked questions. I asked him for help and he just gave it to me and I thought he deserves to have this named for him."
Prior to 2005, the race was known as the Cinco de Mayo Run. The race includes not only a 10K which starts at 8:30 a.m., but also a 5K and a 2 mile fun walk that start at 7:55 am. There will be prizes for the race winners and Ramirez is also planning on providing steak fajitas along with fruit and drinks after the race.
"One of the good things about this event is that is draws a lot of people," said Ramirez. "I hope that local people will show up this year. Believe it or not, this race is the one that draws a lot of people from out of town. Every year we get people from Alabama, Florida, Virginia and Georgia. I've had people from Utah and California come, too. We have a great race and a great area to run in downtown."
To register for the race or get more information, visit the Web site at www. cincodemayo10k.org or call 578-9680.
On May 9, the party transitions to Festival Park where there will be music and dancing from 12-6 p.m. With fantastic support from local sponsors, Ramirez says that the Cinco de Mayo Festival will include three Mexican folk dance groups: Los Concheros Aztecas de Octavio Flores, Magestic 4H Club from Sanford and Espíritu Latino from La Grange N.C. The "Charros de México" de Manuel Cerna Mariachi Band will be performing. These groups will perform a variety of dances, starting with Los Concheros Aztecas. The dance troupe's performance is related to the magnifi cent Mexica culture, known as the Aztecs.
From Central America, "Conjunto Típico Raíces Istmeñas" will perform with their beautiful polleras (decorative skirts) and unique tocados (hair accessories). Their style is very unique and is from the country of Panama.
From the Middle East, Qarisma Dance Arts will perform in order to raise awareness of authentic Middle Eastern Oriental dance which is many times confused with Belly Dancing.
The Fire Antz Cheerleaders "The Heat" will delight the crowd with their moves. Also, the Speak Easy Latino Dance Club will perform outside of its establishment showcasing the riches of unique dancing Salsa and Bachata styles.
"My goal is to bring all these different groups of people in Fayetteville together," said Ramirez. "I don't want to just bring in a bunch of Americans and play Mexican music for them. That is not how it is going to work. You gotta suit your environment. To do that I gotta bring in different bands and entertainment."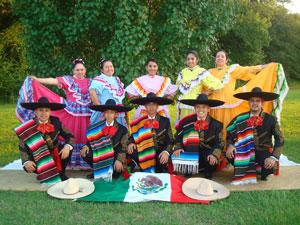 Ramirez is hoping to have the 82nd Airborne Free Fall Team at the event as well. Mayor Tony Chavonne is scheduled to offi ciate the opening ceremonies with a ribbon cutting event. Look for a dominoes competition, a raffle for a fl at screen TV and loads of fun to round out the day.
All of this fun and excitement will benefi t the community in more ways than one. Ramirez is donating a portion of the proceeds to the Hispanic Latino Center. Located downtown near the Women's Center, Ramirez is choosing to support this organization for all of the good services they provide to the local Latino population.
"They have a lot of computers and they teach them (Latinos) how to speak English, work with computers and stuff like that," said Ramirez. "They connect them with the right people when they are looking for jobs and they put them in touch with lawyers when they need to get their visas squared away. The center guides them the right way to see the right people. One of the things about the center is that they concentrate on prepping Latinos for success in the U.S."
To find out more about this extensive and festive Cinco de Mayo celebration visit www. cincodemayo10k.org