It has long been a dream of Bo Thorp, the artistic director at the Cape Fear Regional Theatre, to bring a production of Hair to the CFRT stage. Over the years, she has mulled over the idea, trying to find a way to bring what has been billed as an anti-military production to a very pro-military community.
"I love the music in Hair," said Thorp. "It's a generational thing. People know the music, they can sing along with it. But it is not our intention ever to offend anyone and we certainly don't want to turn people off, so we had to find a way to bring this wonderful music to the stage without getting into the idea of war or nudity."
After looking for many years, Thorp found the answer.
The show will be performed in concert, with limited dialogue, which will mostly be used to introduce characters and segue into the next musical number.
At the helm of the production is William Day, a New York actor with close ties to not only the CFRT, but also the production.
Day, who was raised in North Carolina and Viriginia, has spent some time on the CFRT stage. In his earlier years, he performed in Godspell and Footloose.
"As a young actor trying to fi gure out what I wanted to do, I spent some great time at the Cape Fear Regional Theatre," said Day during a recent telephone interview. "I learned a lot from the local talent, and I really admire the work they do there. Over the years, Bo and I have remained friends, so when she called me about Hair, I was ready to do it."
Day recently staged a production of Hair in Wilmington, and it was that production that gave Thorp the motivation to move forward with the production.
Day explained that he has a passion for the production, and has made a careful study of it.
"I recently saw the revival of Hair on Broadway," he explained. "Having done the production a number of times over the past 10 years, I thought the Broadway show had a lot of problems. It was too polished. It had no authenticity. There was no rawness to it. The acting was fl awless — it's Broadway — but it lacked heart and the great storytelling that this production needs."
So Day took the idea and reworked it into another production of the show.
"It's less about war and more about loving yourself and others," he explained. "That's really the central theme to Hair. There are certain things in the script you can do without, so it's not so much in your face. This staged concert version is going to be very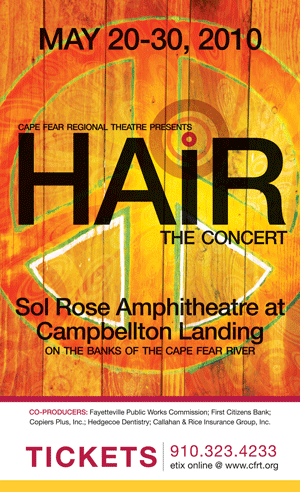 exciting. It's going to be a lot of fun."
And, according to Thorp and Day, it goes back to the original production's roots. The first production of Hair was staged in the park. So the outdoor setting at Campbellton Landing will greatly enhance the production.
"The show is so environmental," said Thorp. "The cast is going to be out in the audience a lot, and the audience is going to be a lot more involved than they normally are."
Thorp said she expects this show to appeal more to a younger audience than what has typically attended the river show.
"There's going to be a lot of tie-dye and glow sticks," she said. "It's going to be a lot of fun."
Part of the fun will come from the fact that people know the music.
"A generation grew up on this music, and I expect they will be singing along," she said. "Traditionally, at the end of the show, people throughout the audience are on their feet dancing. We want to see that."
Day, who arrived in Fayetteville this week to begin rehearsals, will be arranging the staging and the dancing to get people in that mood.
"It's really fresh and exciting," he said. "I think it's going to be a great show, and I can't wait to work with the cast to bring it to stage."
Thorp said there will be more than 30 actors involved, as well as the Volkswagon bus and Beetles. "There's going to be a lot of hippy stuff," she said.
The show opens on Thursday, May 20 and runs through May 30. The shows being at 8 p.m. As in years past, attendees can elect to eat dinner at the show. This year's dinner will be courtesy ofRiverside Steakhouse & Oyster Bar at Campbellton Landing. The menu will feature pork tenderloin, vegetables, bread pudding and homemade rolls. Thorp added that there will be a variety of beverages from tea to beer and wine available for sale throughout the evening.
To make reservations or for more information, visit www.cfrt.org.