Judy Dawkins knows the power of positive thoughts and of positive contributions. Following her retirement from the federal government a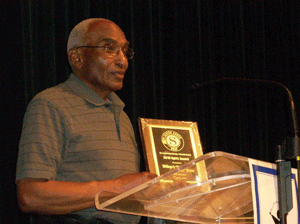 number of years ago, she began a second career as the director of the Retired Senior Volunteer Program, or RSVP. Since that time, she has seen retirees, like herself, step out into the community and do everything from helping children learn to read to taking meals to shut ins.
On Friday, April 23, Dawkins was joined by more than 475 volunteers at the RSVP annual volunteer appreciation luncheon at Snyder Memorial Baptist Church. The event is designed to thank the organization's senior volunteers and to honor one of its own for their dedication and contributions to the community. Both were done in style.
In 2009, the 515 volunteers registered with RSVP logged more than 104,187 hours of service to the community. Their time is equivalent to 50 full-time employees, which saved local organizations more than $2,031,646.50. Volunteers with the organization must be at least 55-years-old and elect to serve in one of the 76 agencies served by the organization.
Joining Dawkins in thanking the volunteers were Kim Hasty, who served as the mistress of ceremonies; the Rev. John Cook, Sheriff Moose Butler, Lt. Gen. Frank Helmick, of the XVII Airborne Corps, N.C. Rep. Rick Glazier, Mayors Ethel Clark, Eddie Dees and Tony Chavonne, Billy King, chairmen of the Cumberland County Board of Commissioners and Robert Hines of the United Way.
Janice Burton, associate publisher of Up & Coming Weekly presented the Up & Coming Weekly Spirit Award, which honors the outstanding volunteer of the year, to Jim Stitt.
Stitt, who has been volunteering with RSVP since 2002, delivers meals to the home bound, works with the United Way and a number of
other agencies. Stitt, a retired Special Forces soldier, is an avid painter and is still actively involved in athletics. The award's presentation was complete when Stitt arrived at the ceremony, having just won a gold medal at the Senior Games.
Dawkins joked with Stitt, recalling his start with the organization. She explained that a number of gentlemen came to the senior center to play pool on a regular basis.
"I heard them in there and they were having so much fun," she recalled. "I went in and told them I need them and that energy to volunteer."
It seemed that no one was going to take her up on her offer until later when Stitt came to her privately.
"He told me he would do what I needed him to do as long as I didn't tell the other guys," she said.
Over time many of those gentlemen joined Stitt in his service to the community