The arts are alive and well in Fayetteville and Cumberland County, and starting in May they will be the focus of a new monthly program, Arts Alive at 4th Friday.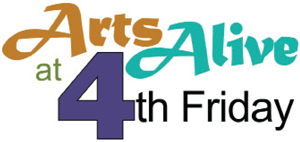 In addition to the monthly featured exhibits that that typically mark the celebration of the arts and downtown the fourth Friday of each month and includeentertainment and refreshments, artists will demonstrate and sell their creative work from 6 to 10 p.m. on May 28, along Maxwell Street by the Arts Council building on 301 Hay St.
"We wanted to get back to the arts focus of 4th Friday," said Chris Kastner, executive director of Cape Fear Studios, a nonprofi t arts organization located by the Transportation Museum in historic downtown. "We want people to be able to learn about and view art."
During Fire Arts Day last October, visitors were treated to live demonstrations of pottery and jewelry making by fi re. Arts Alive is an extension of that highly successful event, featuring artists on the street rather than in gallery exhibits alone.
A collaborative effort between the Arts Council, merchants and art lovers along Maxwell and part of Franklin Streets, Arts Alive is a juried art event. Artists will complete a one-time application process in order to secure a booth and demonstration spot.
Artists must provide a "…picture of their art and how they set it up," Kastner said.
"Artists and groups of instructors at local universities will judge their work to insure that it is handmade and of a certain quality to maintain a standard of art. The booths will be inspected, and we must see what was pictured," said Kastner.
The "best booth" and "best demonstration" will receive recognition.
But Arts Alive is about more than art on the street. It's about more than what you can see, rather it's about what you can experience. With that in mind, the event will feature performing artists as well. Singer/songwriter Autumn Nicholas and poet Neal Ray will perform as they move through the audience during the event.
"We want the whole thing to be interactive," said Kastner. "Our mission statement is to educate the public on the arts, and this event will appeal to all ages."
And, as is always the case, the various venues and galleries throughout downtown will also be open, and invite you to stop by to peruse their collections and exhibits, meet their artists, listen to musicians and get to know your community and your neighbors.
Other places to visit include:
• Arts Council, 301 Hay St.
• Cape Fear Studios, 148 Maxwell St.
• Cumberland County Headquarters Library, 300 Maiden Lane.
• Fascinate-U Children's Museum, 116 Green St.
• Market House: An ever-growing and evolving drum circle will gather. Drummers are welcome to join this group, which plans to meet every 4th Friday under the Market House.
For more information on 4th Friday activities and Arts Alive, contact the Arts Council at (910) 323-1776 or visit www.theartscouncil.com/4th_Friday.html. Fourth Friday is free and fun for all ages.