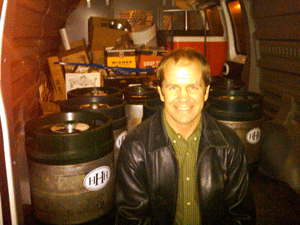 Josh and Tonia Collins, the proprietors of Huske Hardware House Restaurant and Brewery, fell into the restaurant business quite by accident. While looking to add a property to their property management business, they made a bid on a building downtown. Upon closer inspection, they found the building housed a restaurant, and everything in the building came with the sale of the building.
Josh, who has been in business since he was 6-years-old, was excited about the idea of trying his hand in the restaurant business. So he headed down to Barnes & Nobles. That's probably not where most restaurateurs start out, but that's where he started.
"We bought five books on restaurant management and read them," he said, during a recent interview. "Well, actually, I read three of them and fl ipped through the other two, because they all said the same thing: 1/3 of your money goes to overhead, 1/3 goes to employees and 1/2 goes to cost of goods."
Armed with what the authors felt were the keys to success in the restaurant industry, Josh and Tonia took on the operations of the Blue Moon Café in the city's historic downtown. Josh, an Army offi cer at the time, had little time to devote to the business, so Tonia took on the reigns of overseeing the business.
"Tonia works in the business and I work on the business," said Josh, noting that operating the Blue Moon was a surgical operation. "We had no storage space, we had three shipments a week delivered and went to Sam's for anything else we needed."
Through hard work and a learning curve, they got the recipe right on the business, and it quickly became a favorite dining destination downtown.
When the couple, always on the lookout for a new investment, saw an opportunity to purchase the then defunct Huske Hardware House Restaurant and Brewery, they jumped on it.
"The Blue Moon was a 70-seat restaurant; we thought if we could do that, we could do even more with a bigger restaurant space."
The learning curve was a little bigger in the new facility.
"We learned a lot of lessons in this 350-seat restaurant," he said.
They sealed the deal for the restaurant at the end of January 2008, and in February, they jumped in with both feet.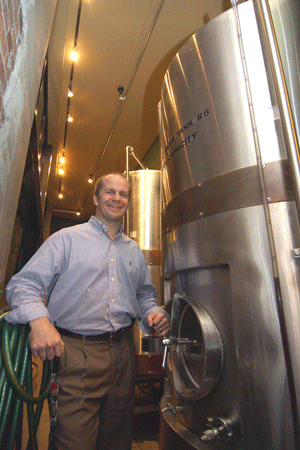 "We were asked to be one of the title sponsors of the Dogwood Festival in April, and we hadn't even opened yet," he said. "The place was a mess. We had three months to renovate, create a menu, hire and train a staff, hire management and a brew master. We've worked on houses that have taken that long."
Since Josh was still in the Army, Tonia had oversight of the renovations. She picked the fabric for the booths, the design of the new bar and the historic photos and tools that line the walls. When Josh got off work, he would come downtown and work until 2 a.m., return home, sleep for three or four hours and then put on his uniform and go back to work on Fort Bragg. The hard work paid off and the restaurant opened a week before the Dogwood Festival.
"At the time, I think because people were excited about the restaurant reopening, there was an unrealistic expectation of what we could do," he said. "We made some mistakes, and it's taken a while to get everything right, but over the past two and half years, we've come a long way and we're moving forward."
Part of that forward movement is a partnership with Harris Wholesale to distribute Huske's microbrews throughout the region. That wouldn't have been possible without the hard work and dedication of the Huske brew master, Julie Baggett.
"It took us three months to hire a brew master," said Collins. "We interviewed people from all over the world, and we found Julie in Atlanta. I had three requirements: They had to brew a great beer, be able to talk their beer and compete with guest beers."
The final requirement was necessary because the brewing operation was in such disrepair when the restaurant opened that they were unable to serve their own beers. Baggett was the only brew master who felt that she could compete with those guest beers, and she wasn't wrong. The Huske brews began getting immediate attention with both the Rusty Nail Pale Ale and the Level Headed Blonde quickly becoming customer favorites.
Harris took notice when they saw that of the eight top sellers in the restaurant, six were Huske brewed.
"They wanted to take a look at what we had and decided to carry our beers," said Josh. "We are in eight to 10 counties from Raleigh to Pinehurst."The beers started circulating the region in February and are now in more than 30 locations. "They key is that while we are adding new locations every week, we are also keeping the ones that gave us a try," said Collins.
Keeping customers is something that both Collins believe in. Over the past two and a half years they have altered their menu and revamped their evening entertainment until they found what works for the Fayetteville market. During the day and early evening Huske is a restaurant that serves great food, at night it becomes a nightlife destination. If you drive by on weekends, you'll see the crowds waiting to get in. They've drawn loyal customers by giving them what they want: great food and great entertainment in a safe environment. Since opening, they have had no alcohol-related incidents because they put the safety of their patrons first.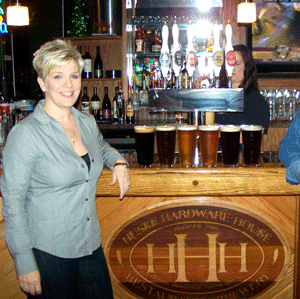 In the spring of 2011, those patrons will have another reason to cheer. The Collins, along with a group of investors that Josh refers to as "band of brothers," will open Wet Willie's in the building adjacent to Huske. For those not in the know, Wet Willie's is a daiquiri bar and grill with locations in cities like Charleston, Savannah and Charlotte.
"Chicks dig foo-foo drinks and guys dig chicks," said Josh, who immediately got a look from Tonia. "Wet Willie's and Huske are a perfect match. We are working on the building and expect to open in the spring, because you don't open a daiquiri bar in the winter."
The plan is to open the restaurant in conjunction with the Dogwood Festival. "We want to hit it out of the park," he said. "Wet Willie's will be a full-service restaurant that provides entertainment such as live acts and karaoke at night to great lunch during the day."
The two restaurants will not be physically connected, but Josh said they will complement each other, adding another destination to downtown.
That's something Josh is passionate about. As a board member of the Downtown Alliance, the often outspoken business owner has made making downtown a destination his mantra. "I can't tell you the number of times I've given the alliance my 'I Have a Dream' speech for downtown," he said. "I see our downtown looking like Savannah or Charleston or Charlotte or Greensboro, it's just going to take some hard work."
And, if you look at where the Collins have come from their fi rst visit to Barnes & Noble to today, Josh believes it pays off.