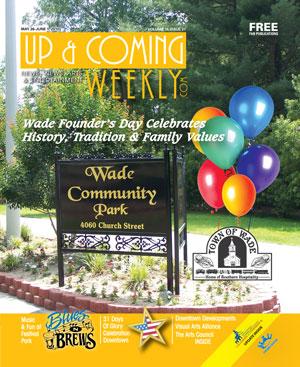 There is just something charming and a little nostalgic about small towns— the laid back pace of life and the close-knit, community spirit that comesfrom generations of families working, struggling and succeeding side by side.Whether you choose to live in one ornot, these small hamlets that dot thelandscape of our fair state offer morethan an opportunity to pull off theinterstate for some gas and a drive thruburger — much more. And they knowit, too.
Without stopping to look,experience and enjoy these places, howwill you ever know which village has thebest walking trails, the quaintest parkto picnic in, the drug store with a sodafountain that makes fresh squeezedlemonade by the glass or the restaurantthat makes the best bar-b-que around?
Well, Wade N.C. is just one of thesesmall town gems that people drive by,through and around without stoppingto sit a spell, much less taking the timeto get to know the town-folk. On June5, they are pulling out all the stops to showcase all that the family-friendlytown has to offer with the 2nd Annual Wade Founder's Day Celebration.
The goal is not just to bring out the local population, but to draw in thesurrounding communities, show them a good time and give them a taste ofthe quiet, clean country living that makes it such a special place.
"This is the 2nd Annual Wade Founder's Day celebration," said EventOrganizer, Joe Dixon. "The reason we are doing it is to give something backto the community. Wade is a little community that nobody knows about andwe want to let people know we are here. We have a lot of older people andwe wanted to give something back to them and to bring back some of theheritage and tradition."
Some of the static displays that will bring a touch of nostalgia to the dayare the antique tractors and farm equipment.Reconnecting with past traditions andtechnology at the vintage car show willgive parents the chance to reminisce ofmore innocent times while youngsters get apeek at what vehicles were like before theycame with DVD players installed and airconditioning was standard.
The parade starts at 10 a.m. at the WadeMunicipal Park. The Mayor will be there tostart the festivities.
"The kids (from local schools andchurches) will get up there and do thePledge of Allegiance," said Dixon. "And wewill have a color guard from one of the localschools — they will sing a song. We arehoping to have some of the beauty queensto do the Star Spangled Banner and maybesome patriotic songs and then we fall rightinto our entertainment for the day."
There will be two stages that will be fi lled through out the day witheverything from gospel singers to barber shop quartets, to country andwestern singing to clogging.
"We are going to have the Fort Bragg Stars and Stripes — the ladiesgroup," said Dixon. "They go from 25 years-old to, well, one of them is 91.They are a feisty bunch."
There will be pony rides and wagon rides for the kids. What celebrationwould be complete for a youngster without bouncy houses, infl atable slides,fi eld games and face painting? Dixon promises that there will be plenty of allof that, not to mention the food vendors — lots of food vendors. Italian ice,popcorn, funnel cakes, cotton candyand every other delightful confectionthat brings a smile to most everyone'sface will be available.
"We had a fella last year — a goodsized fella — he had three cups ofItalian ice in one hand, a popcorn inthe other," said Dixon. "He'd eat a bitof each one and then eat some popcornand he'd say 'Now this is the way tolive!'"
Local fire and police departmentswill be performing demonstrationsand handing out information. Dixon isalso planning for a life fl ight helicoptorto be on the grounds with somedemonstrations, along with a blackhawk helicoptor.
What down home country throw-down would be complete without thetalented contributions of local artisans? "There will be a lot of arts andcrafts people there" said Dixon. "Last year we had several jewelry makers,a lapidary guy polishing stones. He will be back this year. He was actuallydoing the work while people were watching."
Dixon said that it was only two days after last years Founder's Daycelebration was over that planning for this year's soiree began.
They've been working hard to make a great event happen and to showthe community and surrounding area what Wade has to offer — and it is allfree to anyone who chooses to attend, except the food of course.
"All the entertainment is free. I think it is going to be a really good time,"said Dixon. "It is a family type event. That is what we are hopingfor — to get the people to fellowship and enjoy each other.
"It is safe. It is enjoyable. It is something that families can go to andenjoy themselves without spending a lot of money."
The town of Wade is located 14.5 miles outside of Fayetteville.Take I-95 to exit 61 andturn left. For more infovisit http://wadenc.com.