Whether it is for competition, recreation, a matter of healthy living or as a means of transportation, bicycling offers benefits to most everyone. It doesn't matter if you are 6-years-old and riding in a circle on your cul de sac, if you are 14 and biking over to a friends house, a 20- or 30-something training for a race, a parent out with the family for an outing, a person recovering from an injury or a senior looking for a low impact and relaxing way to exercise — cycling offers something for everyone, if they care to give it a try.
Unfortunately, Fayetteville is not exactly a bicycle friendly place if you are looking to really put in some miles. The roads are often dangerous and congested. Aside from the Cape Fear River Trail, there are no bike or riding paths to speak of and really, how many times can a person make that eightmile round trip ride without getting a little bored? And sadly, that doesn't leave much for the long distance biker to explore.
That being said, there are folks in our midst who are dedicated to riding and are fi ghting to show the community that bicycling is something that can and should be pursued.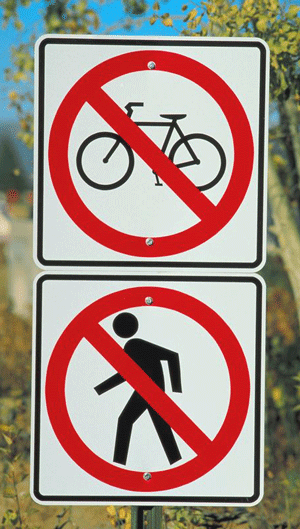 Since 2003 the Cross Creek Cycling Club has been advocating for cyclists in the greater Fayetteville area.
"Our primary focus, originally, was going to be on the recreation side and rider development as far as getting people in and teaching them how to ride together as a group and riding safety — that kind of stuff," said Robert F. Havens, president of the Cross Creek Riding Club. "Then we sort of evolved and now we also have people who race under the club's name."
The club is still 80-90 percent recreational riders though, and the original goal of getting people out on the bike, learning to ride with traffi c and obeying the laws hasn't changed.
"There are a lot of people who don't even know the most basic laws about cycling," said Havens. "Not just for cyclists, but for vehicles. Car drivers that don't ride don't know the law. That is usually our biggest stumbling block — trying to educate people. We are trying to make it safer for everybody."
They make it fun, too. With about 140 members, in addition to supporting and sponsoring club members who choose to compete statewide, regionally and even nationally, the club also sponsors events like the Patriot's Criterium and the Wounded Warrior Ride. They also have an event coming up to raise funds and awareness for Fayetteville's "Bicycle Man" Moses Mathis.
Havens said that while things aren't ideal for cyclists in the Fayetteville area, the Fayetteville Metropolitan Planning Organization (FAMPO) is working to change that. The organization is currently conducting a bicycle and pedestrian connectivity study. The purpose of the study is to help guide the growth of the region's walking and bicycling facilities.
The study is in the early phases and is focused on reviewing previous plans, understanding existing conditions, working with stakeholders and listening to public views on biking and walking in the region.
"We started working with FAMPO three or four years ago and they didn't have a lot of knowledge on how riding was in our area," said Havens. "They've started working on mapping and commuting routes ... I hope that it does come to pass. If you compare Fayetteville to Charlotte or Greensville, there is a lot more support for cyclists in those other cities."
To learn more abut cycling in the greater Fayetteville area or to weigh in on the issues, check out http://crosscreekcyclingclub.org. There is a link to the FAMPO survey as well as information about the study.