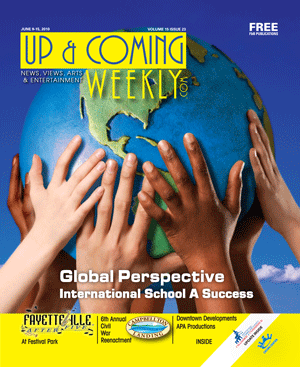 The farming community of Gray's Creek is just about as far from the international political scene as you can get. But this year, students at the new Gray's Creek Elementary School began a journey that brought the world to their doorsteps. And, if the excitement in the children's voices as they talk about this past school year is a way to judge that journey, then it's been one heck of a ride.
Gray's Creek Elementary, which opened in August of 2009, is the pilot Global School, which is a partnership between the Cumberland County Schools and VIF International Education. The VIF program, based out of Chapel Hill, N.C., brings international teachers to American schools to help students learn about different cultures and see the world through different eyes.
When Gray's Creek Elementary Principal Cal Violette, an educator for 26 years, was approached with the idea of taking on the new school, and creating an international school, he was excited.
"I can honestly say this has been one of the best years out of my 26 years in education," he said. "This was a great opportunity to open a new school with this international theme. We were able to pull together an outstanding staff and we inherited a great bunch of kids."
Violette also was given the opportunity to blaze the path where international/ global education is concerned in Cumberland County. The new school was one of a kind, and is the only school of its kind in North Carolina. One third of Violette's staff is comprised of VIF teachers. The school is what the VIF has termed a Passport School.
A Passport School is designed to build a foundation for students to achieve global literacy. Schools designated as Passport Schools emphasize experiential learning, cultural exposure and early language skills.
Violette noted that while many schools have some component of the Passport School in their curriculum, Gray's Creek is the only school to have all four components in place. To be designated as a Passport School, the school's curriculum must have fi ve key components:
• Regional focus by grade level
• International Staff
• World Language
• Professional Development
• Instructional Resources
"I think we are opening up a new way of learning for our students," he said. "We are expanding our curriculum, which has allowed us to integrate specifi c regions within our curriculum, and it is enriching and challenging our students on a daily basis because of that."
At Gray's Creek, each grade is focused on a specifi c region of the world, and international teachers from those regions teach at that grade level. Kindergarten is focused on North America. The staff felt that it was important for those students just entering school to know about their country fi rst. First grade is focused on Australia, second graders learn about Asia, while third graders study Africa. Fourth graders focus on Europe and fi fth graders look at South America. If a student begins school at Gray's Creek as a kindergartner, they will literally go around the world by the time they go to middle school.
A key component to the program is the study of language. All students at Gray's Creek study Spanish, with the hope of incorporating an additional language as the school grows. Violette noted that it was important to introduce students to language early on, so a particular emphasis is placed on language in K-2. There are two full-time Spanish teachers at the school.
Spanish isn't the only language students are hearing or learning, though.
Deirdre Furlong is a fourth-grade teacher from Wexford, Ireland. Furlong, with her bright red hair and Irish lilt, sparkles when she talks about her students and the past year. She laughingly says she has picked up a southern drawl, while her students have picked up a bit of Gaelic, the ancient Irish language.
Furlong has been with the VIF for two years. Her first year was spent in Raleigh, and in August she made the move to Cumberland County, and the rural school.
"I was so excited when I found out that it was going to be an internationally themed school. I not only had the opportunity to teach, but also to infuse the curriculum with international themes," she noted. "I thought it was going to be great."
"I think Gray's Creek is an ideal place to have an international school," she continued. "A lot of these children may not be exposed to other cultures and countries but this experience will awaken their curiosity, and later they may want to travel there."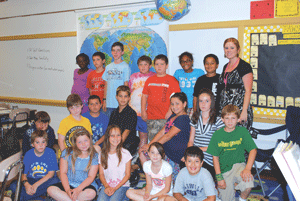 She said the children have been like "sponges," soaking up everything they have heard. The parents have also been receptive of the idea and very supportive of the new initiative.
"A lot of the parents are learning through their children," she said. "People may have an idea about a certain area or people and think they know what they are about, but now, they are learning that might not be the whole story. They've learned that Ireland is more than leprechauns and rainbows."
Furlong plans to return next year, and like Violette, she sees the program and the instruction expanding. "We are all so excited about what we can do next year. There is so much more that we can build on. We've gone past maps, fl ags and food. We've learned not to judge people or stereotype because we've shown the children how people live. And maybe it's not wrong, it's just different." Allie Lamber, a 10-year-old in Furlong's class agrees with her teacher.
"We learned about cultures through our classes and through the people who came in and talked about their countries to us. I am so interested in what we are learning. I want to go to Europe. This year has been so cool," she said.
Paul Chavis, another 10-year-old concurs. "When I fi rst came in, I was a little uncomfortable," he said. "Ms. Furlong asked me if I could tell where she was from, and I saw pictures on the walls and heard her talk about leprechauns, so I thought about Ireland. I know it's more now."
"I love this school," said John Burton, another of Furlong's students. "Ms. Furlong is absolutely wonderful, and she is able to bring stuff about Europe into just about everything we do — even talking about the oil spill. This year I have learned so much, and have seen a lot about different countries. I feel like I actually went around the world."