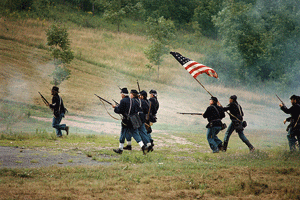 Although 145 years have passed since Sherman's March through Fayetteville, visitors to Campbellton Landing on Saturday and Sunday, June 12-13, will enjoy an opportunity to witness history in the "remaking" as the North Carolina Naval Squadron sets up camp and presents Civil War reenactment skirmishes, infantry demonstrations and artillery fi ring from 9 a.m. to 10 p.m.
"We try to make it a good family-friendly event," said Lieutenant Ronnie Goldman, executive offi cer of the crew.
The group, founded in 2001 in Plymouth, N.C., portrays the Confederate Navy both on shore and onboard the 65-foot 3/8-scale replica of the ironclad CSS Albemarle owned by the Port of Plymouth Museum.
"The event is a fundraiser to help the squadron help preserve the Campbellton Landing Civil War Site," Goldman said.
Campbellton Landing is located on the Cape Fear River and includes original confederate earthworks or breastworks — considered to be some of the best preserved in the state –– put in place to stop Sherman.
"People can walk inside the breastworks, and part of the reenactment battle will take place on the original site. Our cannons will be sitting where the original cannons sat," said Goldman.
Visitors may also see the road where Sherman and his troops crossed the Cape Fear, as well as a road leading down to the river where the ferry would have crossed in the original colonial settlement of Campbellton. In fact, this living history event offers something for everyone.
"We will also have some Revolutionary War re-enactors," said Goldman, "and a period fashion show. On Saturday night after it gets dark, we're going to do a night fi re with the cannons. The camps will be set up, and visitors can wander around them and see what life was like and view artifacts. We hope the mule rides will be there, and souvenirs, food, drink and homemade ice cream will be available. We will also be holding a silent auction on Saturday for a couple of members that were hurt."
"We want everyone to come out and have a good time," Goldman said.
Admission is $5 for adults; children 10 and under are admitted free.Campbellton Landing is located at 1122 Person Street near downtown Fayetteville. For more information, contact Ronnie Goldman at (910 483-4469 or visit www.freewebs. com/ncnavalsquad.
PHOTO: Civil War reenactors will take to the battlefi eld June 12-13 at Campbelllton Landing
on the Cape Fear River. Photo courtesy of Ivan Williams.