Citizens are invited to come be a part of history at the opening of the Fayetteville Area Transportation Museum Annex Tuesday, June 15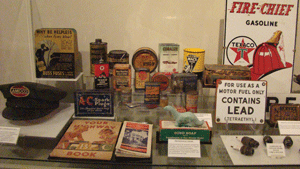 at10:30 a.m. The annex, operated by the Historic Properties Division of Fayetteville-Cumberland Parks & Recreation, is located at 302 Russell St. next to the Transportation Museum.
On display are a circa 1882 Silsby Steamer and artifacts related to early to mid 20th-century automobile, aviation and military transportation. The Silsby Steamer is historically maintained by the Fayetteville Fire Department and was a common firefighting tool in its day.
A replica 1930s gas station and garage is housed in the annex.
"We're thrilled to be opening the Transportation Museum Annex, as a lot of work and care has gone into making it a quality attraction," said Bruce Daws, historic properties manager. "The annex completes the Transportation Museum complex and adds more breadth to the story of Fayetteville's transportation history."
The N.C. Department of Transportation's (DOT) Supplemental Funding Committee funded the annex with three grants of approximately $2.3 million from the DOT Enhancement Division and approximately $105,000 in additional enhancement funds. The three grants were matched by 20 percent of local funds, which are a combination of city funds and donations from private companies and individuals.
The Fayetteville Area Transportation Museum opened in 2006 and offers displays focusing various modes of transportation in the area throughout its history, with a number of displays forcusing on Camp Bragg, now Fort Bragg.
The hours for the annex are the same as for the museum — 10 a.m. to 4 p.m. Tuesday through Saturday and closed Sunday and Monday.