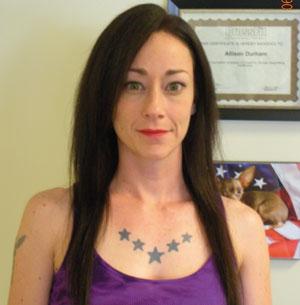 2010 has been a year of change for Ali Durham, the owner of A Star Iron, 4011 Sycamore Dairy Rd. During this year, Durham has known great sorrow and great joy. She is bringing the two together to strengthen not only herself, but the community as well.
A gregarious transplant from Baltimore, Md., Durham and her husband Duke, are happy to call Fayetteville home. They moved here of their own volition, and in doing so, Ali found a life she never knew she wanted.
A former tattoo artist who studied physiology and psychology in college, Durham never saw herself in the role of fitness guru. In fact, it's the last thing she thought she would be.
"I had no interest in going into fi tness at all. I always loved gymnastics, but in my junior year of high school, I had some knee issues. The doctor told me I could not do anything active for the rest of my life or have knee surgery. At 16, I elected not to have surgery," she said. "I just dabbled trying to find what I liked. I worked a lot of odd jobs — an aerospace company, a trucking company — the last thing I found in Baltimore was a job as a tattoo artist. I was able to parlay my study of physiology into a job, and I was making money doing art. That's where I met my husband."
One thing Durham did not dabble with was family. Her family ties run deep, and when she had the opportunity to move to Fayetteville to be near her sister and her children, she took it.
Since neither she nor her sister worked at the time, they began spending time at the gym. It was there, that she made a connection that changed her life forever.
"My sister belonged to Corey Everson's Gym, and we worked out there for a couple of years. There was a manager there who asked me if I really liked working out, and then she told me about John Velandra (a Fayetteville fitness legend who was killed this year in a car wreck)," continued Durham. "She set up a meeting for me with John, and I will never forget that day. My husband had married a rocker/tattoo artist who stayed up until 3 a.m. and lived on fast food and Mountain Dew. He didn't know how much our lives were going to change."
Durham said she walked into her meeting with Velandra wearing jeans and carrying her beloved Mountain Dew.
"John just had this way about him. It wasn't like an interview, it was more like meeting someone for coffee. By the end of the three-hour meeting, I walked out thinking, I can't drink Mountain Dew anymore," said Durham. "He didn't ask me not to, he just gave me the facts. We hit it off, and John took me on as a trainer. From August 2004 to October 2004, I spent 40 hours a week at his side, learning about fitness."
But Velandra taught her more than what muscles did what and how to build those muscles.
"John not only dealt with people on the outside, but everything that went with it. What happens on the outside comes from the inside," she said. "Most days I feel more like a therapist than a trainer. That's a really big part of it. If you can't get a person to start looking inside, then they are going to go down a bad path."
Durham said that the reason most people don't take care of themselves is deeper seated than time.
"A lot of it has to do with self esteem and body issues," she said. "People are going through a process, and a lot of people feel uncomfortable going to gym. They are afraid of what people will think. They feel they are stared at. I have a client who came one time, she liked what we did, and she came back. She said it wasn't like going to the gym and feeling like she couldn't keep up with everybody. She told me she wanted to quit, but she couldn't because everyone at the gym was cheering her on."
That's the kind of community that Durham is building at her new business, A Star Iron.
"One of the biggest things John instilled in me was that everybody is on their own journey. You don't know what's gotten them to that point, but you have to be prepared for anything that comes out," she continued. "When you are working out hard with people, you can see them start to cry when they accomplish something. Sometimes, it seems like you know more about them than their significant other."
Durham's gym is not your grandmother's gym. When you walk in, you might see people flipping tires or throwing weights. It's all about building strength. "
A lot of movement we do gives people confidence," she said. "We have women come in who have never lifted more than five pound dumbbells, who find themselves dead lifting 175 pounds."
She noted that there is an eclectic group of people who frequent the gym. There are those women with self-esteem issues who are working out right beside Special Forces soldiers. She noted that she tells everyone to leave their egos at the door.
"In the gym, we don't care what's on your uniform or how deep your pockets are," she continued. "We are all here to have a good time and journey our way into fitness It's not about judgment. Everybody does the same workout, and it doesn't matter who finishes first, because that person stays to cheer the others on."
The exercise program is based on the CrossFit methodology. Durham said she modifies the program to make it work for everyone. "The workout is the workout, but I want people to work at their skill level. The entire workout is based on general functional fi tness, so it is appropriate for everyone"
From start to finish, the workout takes between 45 minutes and an hour. It encompasses everything from Olympic weight lifting to gymnastic movements to plyometrics, which is a type of exercise training designed to produce fast, powerful movements, and improve the functions of the nervous system, generally for the purpose of improving performance in sport, to metabolic conditioning.
Durham noted that participants have their strong points in the workout, and not everyone excels in every aspect of the workout. Durham said that the facility is an adult facility that offers group classes, as well as personal training and sports nutrition counseling. The gym is holding its grand opening on June 19, along with the other merchants in the Sycamore Station shopping center. The event scheduled between 12-4 p.m., is a chance for folks to come out and see the workout. "We want people to give it a try," she said. "If you don't like it, don't come back. But the majority of the people who come end up staying."
Just as Durham stayed by Velandra's side until his untimely death. "I would never have done this as long as John was in business," she said. "He was my best friend. I truly believed in the product he offered and how he approached the business — it was way more personal than business."
When Velandra's family decided to close his gym, Durham and her husband decided to open theirs. It has helped her deal with the loss of her mentor. "A lot of the people who come are the same people who came to John's gym. We are a family. It's a community," she said.
For more information about Durham or A Star Iron, visit her Facebook page or call 764-1144.