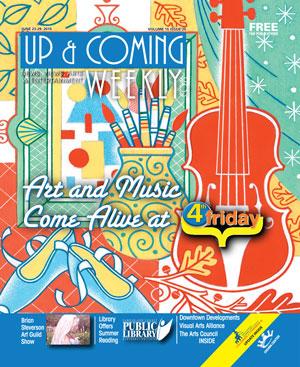 With a combination of artists, performers, refreshments, bistros, galleries, shops and bookstores, appealing to people of all ages, 4th Friday, presented by the Arts Council of Fayetteville-Cumberland County is something you do not want to miss!
The fourth Friday of every month celebrates the arts and entertainment in downtown Fayetteville and is free to everyone. This month's 4th Friday is June 25, and will include a Summer Swing performance at the Arts Council's Grand Hall located on 301 Hay St, by the Gregg Gelb Quintet, from 7 to 9 p.m. The quintet features Gregg Gelb on the saxophone and clarinet, Steve Anderson on the keyboard, Paul Ingbretsen as bass, Chris Gelb on drums and Kathy Gelb with vocals.
One of the newest additions to 4th Friday is Arts Alive!, located on Maxwell Street, where artists illustrate their work from 6-10 p.m. Arts Alive! was introduced on May 28 and featured artists including Greg Hathaway with pottery, painter Brian Stevenso, and Shannon Davis with glass jewelry and sculptures. Poet Neal Ray, puppeteer Frank Byrne and the River Valley Players all entertained and plan to return on June 25.
Visual Pleasures also began on May 28 and featured an art exhibition with fi rst place winner, A. Jones Rodgers for her painting, "Fayetteville Connection." Rodgers also won second place in the exhibition with "Grand Daughters." The third place winner was Charlotte Lane with "Dalmatian-A Trouper."
Any artists interested in participating in Arts Alive! at 4th Friday can submit a jury application or call Ashley Hunt, the Art Council's special events coordinator, at 910-323-1776, extension 230.
Other events happening this coming 4th Friday include the opening of Nature's Elements at the Cape Fear Studios at 148 Maxwell St.,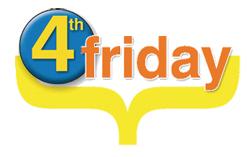 from 6-10 p.m. Thad Mumau will be signing When the Grass Turns Green and Minstrel Fool Randy Holliday will be performi
ng folk songs and ballads on the guitar at the City Center Gallery and Books at 112 Hay St., from 6-9 p.m., where light refreshments will be served.
Cumberland County Headquarters Library at 300 Maiden Lane will feature the BluesEnigmaBand and will have light refreshments. Guests are also invited to the Fascinate-U Children's Museum at 116 Green St., where they are invited to help fi nish the "Military Mural" which will be on display throughout June and refreshments will be served.
Exhibits and artifacts from old fashioned transportation will be on display at the Fayetteville Area Transportation Museum of 325 Franklin St., and Kenny Huffman will be performing from 6-9 p.m. at Horne's Café at 124 Hay St. Drummers are invited to join a drum circle under the Market House and Olde Town Gallery at 124 Maxwell St. will have work by watercolorist Gail Gilbert and White Trash and Colorful Accessories will showcase mosaic cake and cupcakes by Michelle Legler beginning at 6 p.m.
For more information please visit www.theartscouncil. com/4th_Friday.html.
Frank Byrne is one of many artists who will be on hand at 4th Friday.