Brian Steverson has been in Fayetteville for about fi ve years. He's a lifelong artist and has been sharing his talents with the community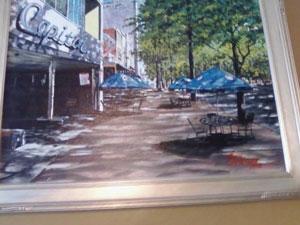 for the past two or three years. He's become a regular at festivals, like the Dogwood Festival and International Folk Festival, and has recently joined the ranks of exhibiting artists at Arts Alive! that happens during the regular 4th Friday celebrations downtown.
On June 25, the Fayetteville Art Guild will host an exclusive exhibit of his work. His pieces will be on display at Gallery One13, 113 Gillespie St. on Fridays and Saturdays through the month of July.
"I am going to fIll the room the pieces — they will be mostly acrylics, some large and some small," said Steverson "I plan to have everything there from portraits to landscapes to city scapes. I have a couple of still lifes in there, too."
Steverson describes his works as somewhere between realism and impressionism. His goal though is not to create controversy or make a statement with this show.
"There is a wide variety of stuff in my paintings." said Steverson. "Some look more real than others and some look more Monet-ish. Ultimately though, I try to make pleasing paintings. It is something nice to look at. There is no deep thought to them."
While there is certainly a place for thought provoking art and art that shocks and makes a statement, there is also a place for art that is just fun to look at and art that will make you smile just because it is appealing and well done.
Steverson paints with red, yellow, blue and black and white on his palette, but that is hard to tell by looking at his work. The colors are vibrant and the shades are many. His work pace is quick and his brush strokes are sure, strangely enough, both are skills he picked up when he painted signs for a living.
"Nowadays computers are used to make billboards and then the images are put on to vinyl and it is stretched into place, but it wasn't like that when I was doing it," said Steverson. "Back in the day, they would give us six foot by 20 foot boards and say 'You've got till the end of the day, (or noon, or whatever they decided) to be done with it.' That is what made me fast and that is what made me where I could mix colors.
"I use red, yellow and blue because that is all they gave us when I was painting signs and then we had to mix the colors ourselves. We couldn't buy 40,000 colors. That just wasn't feasible," he continued.
To look at Steverson's work now, the fact that he mixes his own colors is impressive, and the speed with which he paints is fun to watch, but it is his ability to capture such a diverse number of subjects so accurately that really makes his work worth checking out. Whether it is a picture of the Old Capitol building, the Market House or airborne soldiers leaping from a plane, Steverson's work speaks for itself, much like the work of other local artists with a message to share.
"There are a lot of really good artists downtown — if people would just come and take a look," said Steverson.
Give Gallery One13 a call to find out more about this exhibit at 223-ARTS.