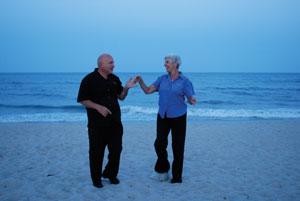 Ah, Summer! Nothing says it better than the sounds of beach music, good friends, great dancing and cold drinks. And, if you live in the Fayetteville area, you aren't going to have to travel far to join in the fun. Shaggers, take out your dancing shoes and get ready for a Summer Workshop Party at the Fayetteville Holiday Inn Bordeaux.
This year's Summer Workshop Party will be hosted by the Fayetteville Area Shag Association (FASA) July 9-11. This "park and party" workshop will include a hospitality room with refreshments and drinks, shag and dance lessons, entertainment, vendors and door prizes like a watch or television. The Holiday Inn Bordeaux will provide a 2,040 square foot ballroom dance floor for shaggers anytime they want to dance during the workshop. This is the first time that the Summer Workshop Party has been held at the Holiday Inn Bordeaux.
"We call it a workshop, but really it's a big party with 100 shag clubs," said Kathi Baloyot, of the Association of Carolina Shag Clubs.
Tickets are $65 for all events and registration can be made at the door or by going online www.shagdance.com/ summerwork.htm. Registration begins at 3 p.m. on Friday, July 9 and at 9 a.m. on July 10. Reservations to stay at the hotel can be made by calling the Holiday Inn Bordeaux, at (910)323-0111, and mentioning the shag workshop. Participants must be 21 years or older to register because alcoholic beverages will be served.
To date, 300 shaggers have already registered and the FASA is hoping for 400 people by the closing day of registration.
This summer workshop is one of five meetings the Association of Carolina Shag Clubs holds annually. More than 100 shag clubs are usually present and attendance by at least two representatives from each club is required. However, all shaggers are invited to come out and have a good time.
Disc jockeys for the event will include Tootie Brown, David Sessions, "Big" Al Pearce, Ricky Price and Murl Augustine.
"FASA was formed in 1984 with the purpose of perpetuating and preserving the Carolina Shag dance, to promote beach music and the atmosphere surrounding the dance, and to create and maintain an environment conducive to the dance," said Baloyot.
FASA is a part of the Association of Carolina Shag Clubs, which was established in February 1984. The founders did not name the club based on location, but rather the Carolinas' style of dancing.
The first major event held by the Association of Carolina Shag Clubs was a cruise, with more than 150 shaggers, aboard the S.S. Galileo on March 3, 1984. For more information please visit www.shagdance.com/ home.htm or call Kathi Baloyot at home: (910) 630-1303, or by cell: (910) 818-9521,