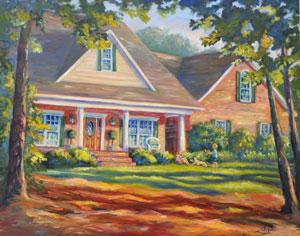 Fridays are magical. They signify the end of the week and the beginning of the weekend, but the fourth Friday of every month is even better. It means that a new month with fresh possibilities is on its way, and more importantly that the streets of downtown Fayetteville are about to come alive with local art.
On July 23, downtown will be crawling with the creative and the inspired demonstrating for the casual passerby. Everyone from puppeteers, poets and painters to the wandering musician will be out on the streets performing.
This month, the Arts Council Fayetteville/Cumberland County has partnered with the Home Builders Association of Fayetteville to bring a new kind of exhibit to the community — A Parade of Homes.
"Last year was the fi rst year that we did a contest for our Parade of Homes marketing piece," said Natalie Woodbury, executive offi cer of the Homebuilders Association of Fayetteville. "The winner that is chosen will be on all of the marketing materials for the parade of homes to include the cover of the tour guide magazines, all the billboards etcetera."
The exhibit will open at 7 p.m. during 4th Friday festivities.
"The partnership between the Home Builders Association and Arts council is a really unique partnership," said Woodbury. "We are both very proud of bringing the two industries together."
Art is usually presented as a fi nished product, but with the new Arts Alive aspect of 4th Friday, we common folk will be blessed enough to witness the dramatic transformation from thought to reality at this family friendly event.
Along Maxwell street there will be different artists that, in the past, have included painting, glass work and jewelry making. Keep an eye out for Curtis Barnes to be among the artists. He is a wood worker who will be demonstrating on a small wood lathe. Expect to see him on Maxwell Street near Cape Fear Studios. While you are there, pop in and see the opening of the Cape Fear Studios 2010 Photography Exhibition.
Roaming Hay and Person Streets, there will also be musicians, vendors and the regular Fourth Friday entertainment that we all look forward to each month. In several of the buildings along these streets and others downtown, such as Horne's Cafe and Cumberland County Headquarters Library, there will be stationary bands performing, as well.
Of course one could make an evening of just visiting the Art Center and touring Maxwell Street, but there will be exhibits all over downtown to check out. Fascinate-U Children's Museum, Fayetteville Art Guild, Market House and Fayetteville Area Transportation Museum are just a few of the other places to check out. 4th
Friday takes place from 7 - 9 P.m. Find out more at www.theartscouncil.com