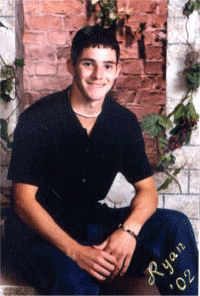 When Nicole Overteem heard Ryan Kishbaugh's story, she felt an immediate connection, and she knew that there had to be a way to help others facing similar struggles.
Ryan Kishbaugh was a stellar student and athlete attending Fayetteville Academy when he was diagnosed with Hodgkin's Lymphoma during the fall of 2002 —his senior year.
Kishbaugh's future had seemed solid. He had been accepted to Princeton and the world was just beginning to open up for him. He died in 2003 following complications from a bone marrow transplant. Kishbaugh's father, Dr. David Kishbaugh, started the Ryan Patrick Kishbaugh Golf Invitational as a way to honor his son. It has grown over time and is now an event that the community looks forward to every summer. This year, the tournament will be held July 24, at Cypress Lakes Golf Course, a poignant date for Ryan's friends and family because it is just two days before his 25th birthday.
When Overteem heard the Kishbaugh story, it really hit home with her.
"I approached Dr. Kishbaugh about this idea. I had to do something for young adults who who have a chronic illness and want to be collegiate athletes," said Overteem. "I was very lucky that with my chronic illness, I was able to compete at the collegiate level in swimming. I've had some up and downs and I was lucky that I never lost my scholarship — so I wanted to pay it forward and give other young adults the same opportunity that I received."
It only seemed natural, considering Ryan Kishbaugh's love of sports that his legacy be a part of her plan.
While the tournament will be run exactly the same way, according to Overteem, it will benefit the Leukemia and Lymphoma Society and the Courage, Confidence, Wisdom and Strength (CCWS) Foundation, which Overteem started with Dr. Kishbaugh. These are virtues that are required of every athlete, but are especially rele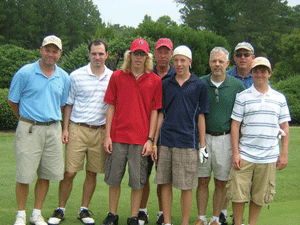 vant to those battling chronic illness.
"The scholarships won't all stay local," said Overteem. "We will send out our packet of info to case workers and case workers will distribute the information to young adults who have chronic illnesses that they know can benefi t from this. The case workers will be in large hospitals around the nation."
With more than 60 golfers already registered and corporate sponsorships from the RPK Center, Carpe Diem, Valley Regional Imaging, Cross Creek Imaging and Family Foods, Overteem is anticipating that the event will be a success. The Fayetteville Academy is sponsoring the hole-in-one prize — $40,000 in cash or four years tuition at Fayetteville Academy.
Registration starts at 7 a.m., and there will be a shot gun start at 8:30 a.m. Visit the CCWS Foundation Facebook page or the Ryan Patrick Kishbaugh Memorial Golf Tournament Facebook page for more information or to make a donation.
(Pictured top left): Ryan Kishbaugh (Bottom right): Participants in last year's golf tournament.