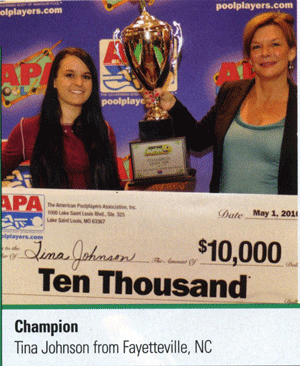 With a history that spans hundreds of years and a following that numbers in the hundreds of thousands at least, pool is a game for everyone. In fact the American Pool players Association (APA) boasts a membership of more than 265,000 and more than 250 franchises. Fayetteville's APA league has more than 1,600 members according to League Operator Tom Dosier.
As the league operator, Dosier considers it his responsibility to keep the local billiards subculture fun and interesting. One of the ways he does that is by bringing in national talent a few times a year.
On Friday, July 23 Dominic "The Drill Instructor" Esposito will be running boot camp at Corner Pockets at 3116 Bragg Blvd., from noon to 6 p.m.
Esposito's love of the game and impressive skills have resulted in him being ranked in the the top 20 world class instructors by Pool & Billiard magazine. He is the head instructor of Pro Skills Drills Boot Camp, a staff writer for Pool & Billiard Magazine, Author of Pro Skill Drills, inventor of The Jest "Aiming " jump cue and two time BCA 10 Ball Champion, Orlando, Fla.
"Well, what he does is he shows you different ways to improve your game no matter what skill level you are at," said Dosier. He teaches different techniques and drills that you can practice to improve where you are in your game — and it is a six-hour block of instruction. It will be a fun time for everybody whether they just come out to watch or come out and participate."
It costs $50 to reserve your slot (there is limited enrollment so don't wait) and another $25 at the door. So for $75 attendees can look forward to handson instruction, one on one evaluations, and improvement in your game regardless of skill level, free lunch and hourly prize drawings.
If you can't make the boot camp or it just isn't your style there will be some entertainment later in the weekend that you won't want to miss. "On Saturday night he will be putting on a show," said Dosier. "It is a three-hour show that starts at 8 p.m. at Corner Pockets. It is just entertaining for the people in the league. We are doing this just to promote the game."
For more information or to register give Tom Dosier a call at 868-8514.
Tina Johnson with APA President Renee' Lyle.