Taking Their Safety Into Their Own Hands
In a military community, the idea of seeing guns is not as shocking as in many communities. But what may shock some people is who's carrying the weapons. According to Debbie Tanna, spokesperson for the Cumberland County Sheriff's Department, there has been a big increase in the number of women seeking to buy handguns and applying for concealed carry permits.
But Cumberland County is not alone in that trend. Across the nation, there has been a dramatic upswing in the number of women who are buying and carrying weapons to protect themselves and their homes. The trend started shortly after 9/11 and has continued to grow, particularly during the weakened economy.
Locally, Tanna contributes that increase to a couple of things.
"There has defnitely been an increase in the number of women requesting gun permits and applying for the concealed carry permits," said Tanna. "A lot of it has to do with the fact that we are in a military community and women are alone and feel vulnerable. Another aspect is the report of rapes in the area. These two factors have caused a lot of women to become more responsible for their personal safety, and that of their families."
Tanna said that in order to drive the idea of taking responsibility for your own personal safety home, Sheriff Moose Butler added a program to extend the idea to personal property, as well as personal safety.
"Earlier this year, Sheriff Butler implemented the Help Us Help You program designed to increase awareness of personal responsibility for securing your belongings and yourself," explained Tanna. "The program encourages people to be more diligent when it comes to these areas. A key factor is keeping an eye on your surroundings, including your neighborhood and your neighbors, safeguarding your property by making sure your home is secured and your children are safe. Another aspect is taking property out of your vehicle, such as GPS, radios, purses, etc., which are likely to be stolen. Since we started the program, we have defi nitely seen a decrease in property crimes."
That was confirmed by the release of crime rates by the state in July. According to the report, the number of crimes in Cumberland County dropped in 2009, following a statewide trend that put North Carolina's crime rate at the lowest level since 1984. That was the good news. The bad news is that the county had the secondhighest crime rate in North Carolina last year. Only Robeson County had a higher rate of crimes per 100,000 residents, according to fi gures released by the state's Attorney General's Offi ce. The crime rate for Cumberland County — including Fayetteville, smaller towns and unincorporated areas — was 7,154 crimes per 100,000 people. That's about 5 percent lower than the crime rate in 2008. Broken down by crime types, Cumberland ranked No. 2 in North Carolina for highest rate of property crimes, which includes burglaries and thefts. Cumberland ranked sixth for violent crimes.
Taking Responsibility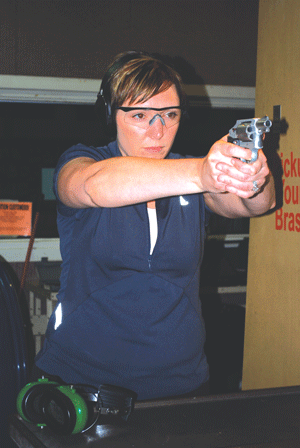 And it is those figures that have women looking to secure their own safety. Jennifer Martin, the wife of a Soldier, believes that women should be able to defend themselves. Martin, a former member of the North Carolina National Guard and a federal employee, takes her personal safety very seriously. She has guns. She has been trained to use the guns, and she has a concealed carry permit.
"For a lot of women, the idea of having a gun is like a security blanket," said Martin. "I feel more comfortable knowing I have a weapon, but most people don't think they will ever have to pull it. You can't let the idea of having a weapon let you let your guard down. You have to be very active in your self-defense, and to do that, you have to educate yourself."
Martin is a strong advocate for tactical training, but also for knowing the law. "You need to know what is going to happen if you pull your weapon, as much as you need to know how to use it," she said.
It is that lack of knowledge that many local firearms experts work diligently to share with the community.
"If you have a gun, and you don't know how to use it then you are putting yourself in danger, because it is going to be taken from you and turned against you," said Frankie McRae, the operator of Range 37 outside of Lillington.
McRae, a former Special Forces Soldier, believes that the two biggest problems confronting women who own guns is their lack of knowledge about the gun, which puts them in harm's way, and the lack of knowledge about how to respond to a threat, which may cause them to unintentionally hurt someone they care about.
To combat those tragic incidents, McRae and the staff at Range 37 offer three women-only classes designed to educate and train women in the use of guns and improvised weapons. The basic class taught at the range walks students through the mechanics of the gun, the moving parts, the ammunition, shooting stances and other fundamentals.
The Concealed Carry Class is tied to a Women's Self Defense Class, wherein you have the mandatory 8-hour Concealed Carry Class, followed by two to three hours of self-defense, which teaches you how to respond to a threat with improvised weapons other than a gun.
McRae demonstrated the idea by taking a lipstick tube and using it as a weapon. "There are a lot of ways you can defend yourself," he said. "But you have to learn them, and practice them."
The range also offers an advanced class that teaches tactical shooting. "This advanced class is scenario driven," he said. "It will take you through the act of defending your home. Targets will pop-up and you have less than a second to determine if it's the intruder or a member of your family."
It is that kind of split-second decision making that is lacking in many gun owners, including men. McRae said that if you intend to have weapons in your home for personal safety or to carry them with you, then you need to have the training to make those kinds of decisions. He noted that there are many people who offer similar training, noting that before you take any training you should look for a certifi ed instructor on a certifi ed range, and should look at the course content.
"Do they only offer the minimum training or do they go beyond that?" he said.
The women-only training classes are held the third Saturday of every other month, with the next class scheduled for Saturday, Sept. 18. For more information about Range 37 and its classes, visit the website at www.range37.com.
When You Are a Victim
Jessica Taylor is a vivacious, well-liked woman in the community. The realtor, associated with Remax West Allstars, is involved in the arts community. Also a military wife, Taylor is familiar with weapons, but until recently didn't see a need to own one for herself. That all changed several weeks ago.
"I'm being stalked," explained Taylor to Geary Chlebus, a firearms expert who is affiliated with Jim's Pawn Shop.
Chlebus, who teaches the Concealed Carry Course at Jim's, as well as the Firearms for Females classes, has heard similar stories over his career in law enforcement. For 11 years, Chlebus ran a police academy, where he focused on fi rearms, interrogation and criminal investigation.
"Women have a responsibility to prevent violence against themselves and others who they are responsible for," he said. "To survive, a woman needs to keep the tactics simple along with being vicious against the attacker."
On a recent Sunday afternoon, he and the management of Jim's Pawn Shop, opened the range, which is normally closed, in order to allow Taylor, Martin and myself to come to the range and learn more about guns and personal safety.
As we entered the store, Chlebus made a quick assessment. Martin fell squarelyin the realm of not a victim. I was an unknown, while Taylor fell into the box of victim.
"It's about how you present yourself," said Chlebus. "If you walk with your head down or are digging in your purse, or talking on your cell phone, then you fall into the victim category. If you walk with your head up and show awareness of your surroundings, you are not as likely to be a victim."
He listened intently as Taylor told her story.
"It started a few weeks ago," she said. "This man has started calling my phone. Sometimes he is telling me what I'm wearing, and what he wants to do to me. So I know he has to be close."
Chlebus concurred. "What have you noticed? Have you seen someone in the same place a lot?" he asked.
"I'm not really sure, I'm on the phone a lot or working in my planner," she confessed. "So I haven't noticed. I am very aware of safety when I am meeting new clients or entering empty houses. In fact, I think a lot more about those things than do my clients."
With the phone calls, Taylor decided she needed to purchase a gun. Chlebus, upon inspection of the small, very feminine gun, explained that the gun wouldn't do much to protect her.
He explained that many women are not familiar enough with guns to make a decision about what kind of gun to buy, so they listen to other people. "If you go to a Ford dealership, what do they tell you is the best car?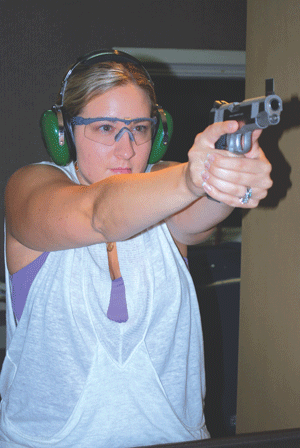 " he asked. "A Ford! You have to go to someone who is knowledgeable about guns, and who can help you fi nd a gun that works for you. You need to try several guns to determine what you are comfortable with."
He said that the size of gun and ammunition a woman uses has to do with how much control she has over the weapons. This can be determined by hand size, length of trigger fi nger and thumbs, muscle mass and strength.
"There's no one right gun," he said. "You have to find the one that fits you."
And the best way to do that is to go to a range and work with a certifi ed firearms instructor. Chlebus, as well as McRae, discourage the idea of a spouse or signifi cant other teaching a woman to shoot.
"That usually results in arguments, or the husband expects the wife to be able to handle a really big gun," said Chlebus. "It doesn't work."
After going through and teaching important safety techniques, such as how to ensure the gun is not loaded, the proper way to hold a weapon and different shooting stances, Chlebus took the group onto the range.
For Taylor and me, Chlebus explained the basics of shooting, and then allowed us to shoot a number of different weapons until we found one that was comfortable for us. Taylor was undecided, but knows she needs to look at getting a bigger gun. I am torn between a 38 and a 9 mm. Martin learned more advanced skills, and each of us were taught to move toward and away from the aggressor while fi ring.
"What you learn on most ranges is to stand still and shoot," said Chlebus. "That isn't reality. If someone kicks in the door of your house, you aren't going to be in a fi ring position. You may be laying in bed or watching TV. You have to learn to shoot from a variety of positions," he said. "Most women are victimized at their cars. You have to know how to protect yourself if you are strapped in your seat belt or if you are trying to get your child out of harm's way. You can only do that through training."
Chlebus noted that Jim's feels a special responsibility for the safety of the community, and goes the extra mile by offering free range time to women on Wednesdays and by offering a number of free classes.
"If you have been a victim, you can take these classes free," he said. "There are a number of other classes we offer that will help you protect yourself, and if you can't come to us, we will bring the class to you, but you have to do your shooting on the range here." For more information about the classes, contact Jim's at 910-864-2270. See next week's issue for more information about guns and the law.
(Photo top) Fayetteville resident Jennifer Martin steps up to the
firing lane at Jim's Pawn Shop.
(Photo bottom right) Jessica Taylor, a local realtor, takes the first steps
to protect herself.