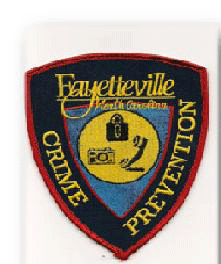 Connie King and Kathleen Ruppert want people to be smart about protecting their property. The two crime prevention specialists at the City of Fayetteville make it their mission to teach people how to be street smart, informed and unappealing targets to criminals.
"We've really made the push of making people become more aware that it (their safety) is their responsibility," said Ruppert. "A lot of that is the push with our crime mapping — our e-mails to citizens. We have really been hitting civic groups, Fort Bragg and any group that we can on safety tips — things that citizens can do to make themselves not become a victim."
Taking advantage of the techno-savvy population, the Fayetteville Police Department uses a program called Nixle to keep folks informed about everything from crimes that are being committed locally to traffic problems to public service announcements.
"If people want to know what is going on in Fayetteville, who the bad guys are, what is going on with the police department, any crime trend, anything that is happening, our public information offi cer has been awesome with getting Nixle started in Fayetteville," said Ruppert. "The information is there, people just have to be receptive and open to getting that info. Nixle is a great tool whether it be through an e-mail or a text alert to your phone."
You can find out more at Nixle.com, and you don't have to register to get a preview of how the Web site works. Type in your zip code and get local and relevant information, then decide if you want to have updates sent to your e-mail or phone and go from there.
Another way to stay informed is to call one of the Crime Prevention Specialists and get on their mailing list.
"We send out what we call 'The Hot Spots' every week," said Ruppert. "That is also a way that we try to get people to be aware of what is going on, not just where they live, but in the entire city. We also give them safety tips, try to connect them with their neighborhood watch. They can always contact us — we are always able to prepare statistics for them, especially if they are getting ready to move into a new community. We can let them know what the stats are in a community before they move in."
Once a person has moved in, or even if you have lived in your home for years, give the Crime Prevention Unit a call
and they will come to your house and perform a security assessment.
"We offer a free home survey to citizens in Fayetteville," said King "We will come out and give you different ideas of better ways that you can secure your home. Just call us. It is a free service to community."
So while the police department can't provide a policeman in every neighborhood, they are very serious about providing solid information and educating the public on how to better protect themselves and their property. For help with any of the programs above, call one of the local Crime Prevention Specialists at 433-1033 or 433-1034.
Here are some easy, common sense things that Ruppert and King think are important to remember when is comes to keeping your home secure.
• An easy target home is any home that has the no one home appearance ... newspapers in the yard and that kind of stuff.
• Use automatic light timers in your home while you are gone.
• If you have an alarm system USE IT! Even when you are at home.
• Lock the doors — even when you are home.
• Don't be afraid to call 911. You can be anonymous, but make the call if you see something suspicious.
• Porch lights and outdoor lighting allow your neighbors to see anything suspicious going on at your house. Leave the lights on!
• Don't leave valuables in your car. Criminals can break in, steal the garage door opener, or gps system, get your address from your registration (or gps) and know right where to come for the rest of your valuables.
• Get to know your neighbors.
"You need to speak to them and let them know that you are there for them because they are your first line of defense if something happens," said King.
"If you are at home, make sure that you acknowledge someone that is at your door. There was a crime trend where people were knocking on doors and if you don't answer they were going around back and kicking the door in," said King. "We recommend at least saying 'Hello. What do you want? Go away! I am calling 911!' Something just to let them know that you are at home. If you think about it a criminal really doesn't want to be seen. If they know you are home they will go somewhere else."
• Break down boxes and burn them inside out after making a big purchase. Throwing away an empty box for a big screen TV or gaming system is like advertising to criminals the contents of your home.