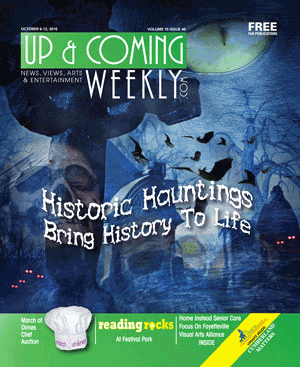 It's there, the tingle down your spine that makes you feel like you are not alone. The shadow that moves quickly by, the wayward sound. Most people have sensed that goose bump forming fear that comes when ghost stories or swapped or after watching a horror movie on TV. This Halloween you have to go no further than Hay Street to enjoy a hair raising experience that brings history to life, as Historic Hauntings returns.
Sponsored annually by the Dogwood Festival, Historic Hauntings runs the third and fourth week of every October. The haunted hayride explores the eerie encounters and mysterious happenings of historic downtown. Local actors and actresses bring the night to life as you visit some of Fayetteville's most infamous haunted locations on the back of the wagon.
Each year, the hayride visits a number of spots that have traditionally been thought to be haunted, and this year is no different. According to Carrie King, the director of the Dogwood Festival and organizer of the event, this year's ride will defi nitely give you a fright.
"We are going to make stops at four different locations," said King. "We'll stop off at the Masonic Lodge, the Transportation Museum, the Fayetteville Light Infantry Parade Grounds and Cross Creek Cemetery."
King noted that the event has grown over the years, and that ticket sales are brisk.
"We don't have the normal problem of selling tickets," she said. "The problem we have now is getting people to make reservations."
King explained that many people wait until the second week to try and attend, and fi nd that they have waited too late.
"If we could get people to make reservations and attend the fi rst week, instead of everyone trying to pack in during the week of Halloween, we would have a lot less disappointed people," she said.
King added that while the organization would love to run more wagons and add days, the sheer size of the event and the work involved makes it impossible to do so. "Our volunteers give so much that adding anymore days would just overwhelm them," she said.
So, if you want to participate, you need to make your reservations early because the event only runs six nights every year. Rides begin at 6:30 p.m. and depart from the Liberty Point Building at 145 Person St., on the half hour until 9:30 p.m. All tickets are $15 and must be purchased in advance . To purchase tickets, call (910) 323-1934 or email info@faydogwoodfestival.com. This is a rain or (full moon) shine event. Please dress for weather conditions.
In addition to the hayride, you can also sign up for the All Hallows Eve Cemetery Walk, which is led by Fayetteville's historian, Bruce Daws. Follow Daws on the candlelight walk that takes you through Cross Creek Cemetery on Oct. 29 and 30.
"Bruce knows everything about Fayetteville, and he tells really interesting stories about the people who are buried there, and you see their grave sites and headstones. He really brings their stories to life," said King.
Tickets for the hour-long tour are sold separately and can be purchased by calling the Dogwood Festival offi ce at 323-1934 and specifying the Hallows Eve Cemetery Walk. Tickets are $10 and walking tours begin at 7 p.m., with the last tour at 9 p.m.
All proceeds for this particular event go towards the restoration of Cross Creek Cemetery.
And whether you have an early or late reservation, you can still take part in the Boo and Brew Patio Party. The party will be at the Liberty Point Building, the starting point for the Historic Hauntings ride. "We wanted to jazz the event up a little," explained King.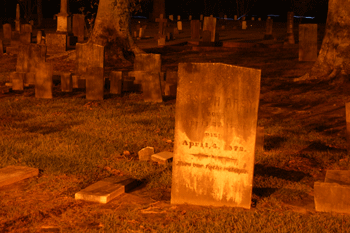 "We wanted families to be able to make an evening of it, so we created the Boo and Brew Patio party."
She explained that while you are waiting to go on your tour, or after your tour, you can grab a hamburger or hotdog to eat, share a beer or a glass of wine with your friends and enjoy some great entertainment. The entertainment will feature everything from acoustic musicians to fortune tellers to storytellers.
The highlight of the patio party is the annual Halloween costume contest, which is open to people of all ages — even if you aren't going on the tour. Pictures will be taken each evening and put up on the Dogwood Festival's Facebook page. You can go there and vote for your favorite costume, with the overall winner winning a great prize.
Historic Hauntings runs Oct. 14-16 and Oct. 21-23. This year, let your fear run wild downtown. You'll be glad you did.