Fall is here and it is time to get out there and enjoy the cooler weather, outdoor activities and fun that abound in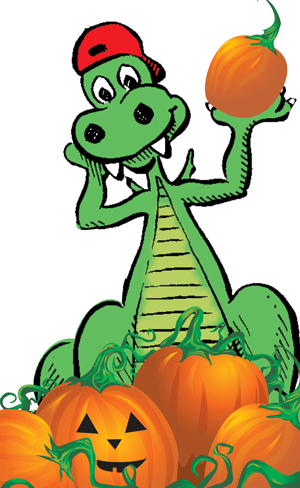 Fayetteville. While the list of fun activities is long, here is one more to add to the category of "not to be missed" events — the third annual Truman's Pumpkin Patch and Fall Festival at Campbellton Landing.
Truman's Pumpkin Patch is designed to make a child's eyes light up, but more importantly its designed to give families a fun, affordable way to spend the afternoon enjoying nature and celebrating this magical time of the year.
For $9 per child (parents get in free) there are plenty of activities at the pumpkin patch for your child to choose from. And, each activity will got a long way in burn-ing off some youthful energy and bringing a smile to your child's face. Parents can take a time out and relax while they watch their kids bounce and tumble in bounce houses and other infl atables. What doesn't wear out a youngster like jumping and bouncing?
You can also check out a fi re truck up close and personal, too. The sirens, hoses and gadgets inside will impress the little ones and give them a lesson in safety and com-munity service. Hay rides along the river (weather permitting, of course), offer a chance to enjoy the beautiful scenery along the banks of the Cape Fear River. Truman's train, face painting, family-friendly entertainment and more round out the adventure at Campbellton Landing. There will be plenty of yummy foods to buy from the concession-aires, too.
"This is really about the kids," said Don Dumas, organizer of the event. "They've got plenty of room to run out here. As a kid you can't run at the store, you can't run in the house, but here there is plenty of room and plenty to do. You can run, you can play in the bounce houses, ride the train ... we just really try to make it something the kids will enjoy."
Dumas also added that there will be a few new features this year — namely carnival rides.
"It took a little while to get the rides worked out," said Dumas. "But we will have even more to do than we have in the past. This is the third year for Truman's Pumpkin Patch and I think it will be our best year yet."
The Pumpkin Patch is open on Saturdays from 10 a.m. to 6 p.m. and Sundays from noon to 6 p.m. through the month of October. Included in the price of admission is a free pumpkin to celebrate the harvest season. Sunday, Oct. 31 is going to be extra special because there will be a costume contest. Age groups are 3-5, 6-9 and 10-12. The judging is at 3 p.m.
"Summer is gone, the weather has cooled off and now it is not so miserable to be outside," said Dumas. "This is a great place to bring the family, let the kids play and enjoy the cooler weather."
If you've never been, Campbellton Landing is just across the Person Street bridge on the banks of the Cape Fear River, 1.3 miles from the Market House. Large groups are welcome, call 483-1649 for more information.