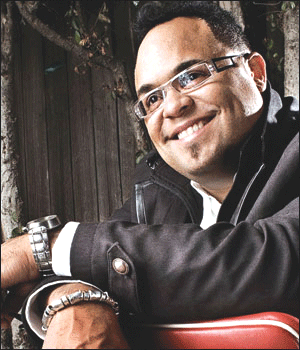 Wiley and Wendy Hughes are the senior pastors of Mount Carmel Church and the founders of Destiny Now World Outreach located at 2569 Owen Dr. They've been serving full-time in the ministry for more than 20 years and have no plans to stop anytime soon, in fact they are more motivated than ever with the opening of the new worship center.
On Nov. 16, to celebrate their new house of worship, they are hosting Israel Houghton and the New Breed for a night of worship and praise and you are invited to attend.
Israel Houghton has a Christian music sound that just can't be easily put into a category. He covers gospel, jazz, rock, reggae, pop and more. Not only does he have his own recording career, but Houghton is also the worship leader at Joel Osteen's Lakewood Church in Houston, Texas. He's also served as worship leader for Promise Keepers and Champions of Christ and performed at the 50th Annual Grammy Awards.
Houghton came on the scene in 2003 when he produced an album by Michael Gungor called Bigger Than My Imagination. Christianity Today proclaimed it "one of the year's best worship albums."
In 2005 his work "Again I say Rejoice" from the album Live From Another Level won a Dove Award. "Not Forgotten" and "Turn It Around" from the album Alive in South Africa won Dove Awards for Contemporary Gospel Recorded Song in 2006 and 2007 respectively. Alive in South Africa was also honored with a Grammy Award in 2007 for Best Traditional Gospel Album.
"This is going to be a wonderful evening of worship," said Emily Smiling of Destiny Now World Outreach. "We are an outreach church and this is a way for us to reach out to our neighborhood and our community. Our goal is to reach out and impact our neighbors, our neighborhood and our community."
The concert starts at 7 p.m. and is sure to leaving you feeling fulfi lled and refreshed. For more info visit www.mountcarmelchurch.net.
PICTURED: Israel Houghton will perform in Fayetteville on Nov. 16 at Destiny Now World Outreach.