There is a distinct joyfulness in the watercolors and oil paintings of Joanna McKethan. Brilliant colors and highly detailed subjects exude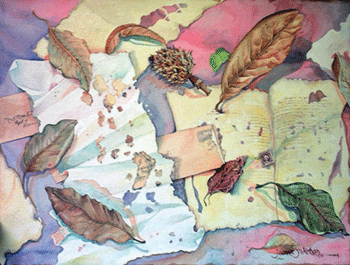 states of grace, sensation and sentiment.
Visitors to Gallery 208 on Rowan Street, Thursday, November 18, will be able to get a preview of the exhibition Works by Joanna McKethan and meet the artist between 5:30 and 7:00 p.m. The artist will be speaking at 6:00 p.m. to give visitors to the reception insight into her journey as an artist.
McKethan resides in Dunn, North Carolina, and has a studio and business in Dunn where she has taught painting for many years. A regular visitor to Fayetteville, some of her local activities include being a juror for the Fayetteville Art Guild, studying printmaking with Silvana Foti at Methodist University and winning two Regional Artist Grants at the Arts Council of Fayetteville and Cumberland County.
I met the artist recently during her gallery talk after she had juried a competition for the Fayetteville Arts Guild. Seeing an exhibition of her work only affi rmed what I already knew of the artist from that initial meeting, she was highly trained and able to verbally discuss works of art in a critical manner.
In addition, what I see in her exhibition is a body of work that refl ects a personality that was communicated during her gallery talk — exuberance and competence.
No matter what the subject she is painting, still lifes or landscapes, there are several underlying themes in her work — one is the unfolding of beauty. McKethan calls her style "playful realism," but I sensed much deeper meaning when I viewed her body of work. For me there is something always unfolding for us to discover among her subjects of feathers, leaves, bubbles or old letters.
In talking to McKethan, she affi rmed her intuitive approach to painting; response overrules planning. In many of her works the placement of objects unifi es the composition, all the pieces fit to make a whole that results in a type of truth for the viewer.
The abundance of beauty in McKethan's paintings invites contemplation. We are immediately drawn to the color and the subject; the signifi cance of play, balance and harmony are spring boards to the essence of meaning in her work.
The inner harmony of McKethan's paintings is subtle; the truth in her work is revealed by the way she has come to terms with her environment with selected interest and is presenting that discovery to us. In the process of painting, the artist has attained equilibrium with her environment, one that brings new and fresh adjustments for the viewer.
For example, a magnolia leaf in McKethan's painting is not simply green or brown, but for McKethan is "layers of bronzed metallic colors." McKethan stated, "I see the depth of the color, not just color in terms of brightness."
The artist shows us a new environment from the familiar. Her objective study of the objects in her still lifes becomes an experience that moves away from the descriptive and aligns itself with interpretation — equilibrium is always present.
A well trained artist, McKethan's experience in art spans thirty years. She studied art at the University of North Carolina at Chapel Hill, but left the university with a BS in Philosophy. While living in Germany, McKethan undertook three years of Old Masters training in oils by a German master, Bergheim and watercolor training at the University of Munich Extension by a Polish master, Leon Jonczyk.
Some of her awards include the Salis International Award from the 59th Juried Exhibition in Boone, NC, the Silver Brush Award for the 25th Southern Watercolor Society Anniversary Exhibition in Baton Rouge, LA, two Regional Artists Grants from the Fayetteville and Cumberland County Arts Council and the Purchase Award from the Watercolor Society of North Carolina in Cary.
When not being exhibited in galleries and competitions around the country, McKethan's paintings hang at two of her galleries, j'Originals' Art Studio at 126 East Broad Street in Dunn and at Art on Broad Atelier at 217 East Broad in Dunn.
In the McLeod Gallery at Up & Coming Weekly, local artist A. Jones Rogers will also be having a reception of a solo exhibition of his watercolors.
A. Jones Rogers has been exhibiting his large format watercolors in Fayetteville galleries for many years, so I welcome a body of his work to be viewed at one time. Rogers is known for his close attention to detail, panoramic views of local sites and historical moments in time.
Rogers's watercolors seem to be more about the details of a moment. In all of his work I feel as if I am in the moment of his experience. Seeing details through the eyes of the artist, I scan his watercolor surfaces as he creates form and story with particulars, information and fi ne points of color and light.
Like McKethan, Rogers has received many awards for his watercolors; one of his recent awards was a fi rst place award last year for Cargill Plant in the Fayetteville Arts Council's Cultural Expressions competition and a first place award in this years competition at the Cape Fear Studios on Maxwell Street.
People attending the reception will be able to meet this enigmatic artist. I have seen his large scale watercolor for years in exhibitions, yet only recently met the artist. So for people familiar with the work, it is their chance to hear the artist talk about his work and his journey as an artist. For those unfamiliar with his work, it will be a perfect time to meet an accomplished local, realist artist.
The two exhibitions compliment each other. Both artists are a testimony to the types of knowledge we can experience as an artist translates and manipulates a similar medium.
The public is invited to Gallery 208 in the offi ces of Up & Coming Weekly at 208 Rowan Street, Nov. 18 at 5:30 p.m. to attend the opening of these two exhibits. Both artists will be present to talk about their work; exhibitions will remain up throughout the month of December.