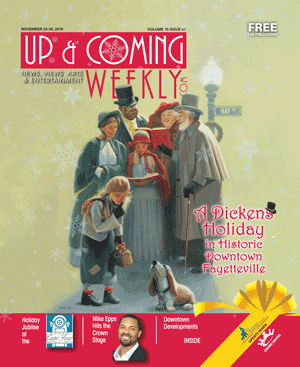 Once the turkey has been eaten, a few rounds of left overs have been reheated and savored and the pie plates hold nothing but crumbs, there still looms a long weekend ahead. Early on Friday morning, you might head out to the stores to partake in the great American pasttime known as Black Friday shopping, but you will want to save some of your energy for the afternoon when one of Fayetteville's favorite holiday traditions — A Dickens Holiday returns to downtown Fayetteville.
From 1-9 p.m., Fayetteville is turned into a picture from the past, a Victorian scene full of good cheer, good times and good fun. Forget the standard 4th Friday events that usually happen this time each month, this celebration lasts through the afternoon and into the evening with events that only come once a year.
"Dickens Holiday is a Victorian-style holiday celebration that kicks off the holiday season. It is based around A Christmas Carol and the whole point that Charles Dickens was making with A Christmas Carol is that this is the time of year when you feel kindly towards your fellow man, you are warmed by your generosity to you fellow man and your good will. That is what turned Scrooge around, that spirit of a Dickens Holiday is absolutely palpable on the street during these celebrations," explained Hank Parfitt, A Dickens Holiday spokesperson.
"It is probably one of a lot of people's favorite holidays because you just have a wonderful sense of community and you feel good about yourself, your community and your fellow man. It really is magical. There is no other festival like it," he continued.
Hot cider and gingerbread vendors line Hay Street offering yummy treats for just .50 cents as professional chefs assemble gingerbread masterpieces at the Rainbow Room. The competition is stiff and everyone is bringing their best decorating tricks as they compete for the $1,000 prize — and don't forget to cast your vote for the People's Choice Award, too.
Check out the Market House display to see the holidays portrayed Victorian style. Vintage coins, ceramics and other commemoritive pieces honoring Queen Victoria will be on display.
There will be carriage rides available from 1-9 p.m. Don't miss the chance to savor downtown decked out in finery for the holidays. Take a ride with a group or make reservations and have the carriage all to yourself. Tickets are $15 per person, and can be purchased by calling 678-8899.
Capture the memories with a momento from Fascinate-U Children's Museum. Kids are invited to create an original Victorian ornament from 1-7 p.m. There is always room to share with the city and hang the decoration on the community tree if your child chooses not to take his treasure home.
Photos will be available for purchase at the Arts Council. Gather the family around Father Christmas or pile into the Victorian sleigh to create a picture that you'll cherish for years. While you are there, enjoy holiday entertainment that is sure to put you in the Christmas spirit!
If you've already got that spirit, why not join in the costume contest — it's only $10 to enter and there will be cash prizes in men's, women's and children's categories.
"It is important to let people know it is a fun event to watch. These costumes are very authentic. They match the time period when Dickens wrote, which is around 1830-1860. It is a quite entertaining to see what these people have designed and sewn together or assembled," said ParfItt. "We encourage people not only to watch but to take part in the contest. There are $500 in cash prizes that we will be giving away."
It is not too late to sign up. Just go to the Arts Council website at www. theartscouncil.com for the application and rules.
The costume contest begins with a Picadilly Promenade and a fi reside chat with Charles Dickens. The promenade is where anyone in costume can come across the stage at the beginning of the contest.
There is no judging or announcing names, it's just a chance to show off your cool Victorian get up and to walk across the stage.
The contest starts at 6:30 p.m. and will be preceded by an appearance by Charles Dickens who will give a little back story about how he came to write A Christmas Carol and some of his other works.
"This year we've got a wonderful Charles Dickens," Parfitt added. With so many events throughout the day it was hard to get Parfi tt to name just one favorite.
"There are fi ve things that make a Dickens Holiday — the carriage rides, the costumed characters from A Christmas Carol and the musicians and performers and roving carolers, the hot cider and ginger bread — without those you don't have a Dickens Holiday," Parfitt noted.
The other component is the procession. At 5 p.m. people gather at the Arts Council for the candlelight walk to the Market House. Queen Victoria in her carriage will be leading the procession and anyone in costume gets to go behind the carriage and everyone else behind that.
Then comes the tree lighting.
"All of the lights come on at one time — and when the lights come on the Market House bell will ring and the fireworks will burst into the night sky," said Parfitt. "That is not the end of the event though. That is the beginning of the holiday season."
There will be activities and entertainment well into the night with the last of the events finishing up at 9 p.m.
Find out more at www. theartscouncil.com.