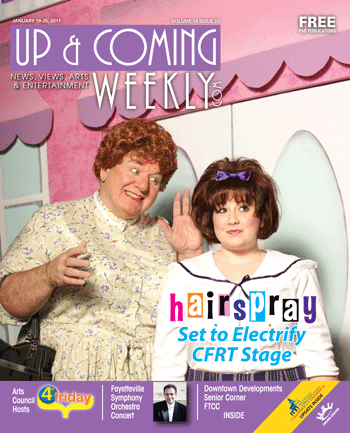 Do you remember with fondness a time when big hair was in, and non-competitive dance shows were all the rage? Even if you don't remember those days with a certain degree of fondness, The Cape Fear Regional Theatre has a show that's right up your alley — Hairspray!
On Saturday, Jan. 22, an exuberant cast is going to Mashpotato, Pony and ChaCha their way into CFRT history with its stellar music, amazing dancing, laughout- loud comedy and thought provoking look at life in the '60s.
For those not familiar with show, the year is 1962. Dancing on the Corny Collins Show is all the rage in Baltimore, and big hair is in. For Tracy Turnblad, who will be played by University of North Carolina at Pembroke student Amy Rowland, dancing on the show is her only desire, and when that dream comes true, she goes from social outcast to super star. Instead of basking in her new found fame, she takes the opportunity to vanquish the mean girls, win the heart of her crush and integrate a TV network all in one fell swoop. If the thought of doing that all at once leaves you breathless, wait until you see the energy packed show that is powered by the enthusiasm of the cast.
"I have really high expectations for this performance," said Tom Quaintance, the director of the show. "We have a fantastic cast that has been working very hard. It's really a great show. It's really well cast. I think the audience is going to love it."
For Quaintance and the cast, the show is still a work in progress. Rehearsals started during the holidays, which left Quaintance three and half weeks to put the show together.
"We took a look at the schedule, and because it is such a big show, we arranged to have four or fi ve rehearsals for dance and vocal to give the folks who were local a leg up," he said, adding that throughout the duration of the rehearsals, there has only been one day (for just fi ve minutes) that the whole cast has been at the rehearsal at once.
Those early rehearsals did not include Rowland or Richard Pruitt, who is playing Tracy's mother, Edna. Pruitt, the elder statesman of the cast, is the only member of the cast from New York.
"Over the past few years, I've gotten used to being the oldest person in most shows that I am in," said Pruitt. "Admittedly this is an extremely young cast. I remember saying a couple of nights ago to Molly's dad, Ken Griggs (who is also in the play), 'I guess I was that young once. I can't remember it. I'm sure I was that young once, but never that energetic."
The majority of the ensemble has been cast from colleges across the state, although many members of the CFRT are in the cast, including Ken Griggs and his daughter, Molly.
"It's fun to see people who are not jaded," said Pruitt. "Sometimes in theater, especially in New York, you see a lot of people who are burned out. That isn't the case here, it's all very upbeat."
"One of the challenges of the show is that it's a very heavy dance show. People are dancing as hard as they can and singing as hard as they can. People are really working hard and it's paying off," said Quaintance.
Because the show is so demanding, the cast really does not get a break. Quaintance explained that as soon as one group goes off stage, they are singing in support of the people on stage.
The show is choreographed by Todd Smith, a member of the original Hairspray Broadway cast. This show will also feature the original staging and choreography, which presents its own challenges in a theatre the size of the CFRT.
"There are some challenges with the staging, but I love this space," said Quaintance. "It's a great size. With the size of this cast, you are really in the audience's laps, so it's so exciting.
"I've long been a believer that the pinnacle of musical is not Broadway. The best expression of musical theatre comes from young people. Musicals succeed or fail based on the pure joy that the performers have on stage. That's what its about," continued Quaintance. "Being up there, loving what you are doing and meaning it. If you are able to do that with a young cast, and tap into that energy, and then have the kind of professionals like Richard that bring the stability, focus and craft that they have, it's going to be just thrilling."
While the show is a comedy, it tackles some very serious issues.
"At the end of the day, it's a relationship play. It's a musical about love and acceptance," said Quaintance. "When we were doing 'I Know Where I've Been', it's hard to get through. It's so emotional. You can get lost in how much fun the show is while you are putting it together and miss the really serious social situation that the play is taking place under. We were able to step back and talk about racism and how it has affected all of us. I'm proud that people aren't leaning into the wacky part of it, and losing those relationships."
"When we fi rst got into that big scene, we talked about it for a while, and made connections on how we would approach it," said Rowland. "While we are singing that song, we aren't just holding hands, we are connecting. It's a very emotional process. We are experiencing it all together. We are not alone. It's pure emotion."
CFRT's production of Hairspray runs from Jan. 20-Feb.13. The box offi ce is open. Tickets are $12/14 – Preview on Thursday, Jan. 20 and Friday, Jan. 21; $27 – Fridays and $29 Saturdays; $22 – Wednesdays, Thursdays and Sundays. Show times are 8:15 p.m. Fridays and Saturdays; 7 p.m. Wednesdays, Thursdays and Sunday evening. Saturday and Sunday matinees are at 2 p.m. CFRT's traditional discounts of $1 are available for seniors 55 and older, active duty military and their dependants on Wednesdays, Thursdays, Saturday matinees. There is a Military Appreciation Night on Thursday, Jan. 27. All active-duty military members and their families will receive $3 off the regular ticket price. For more information, visit www.cfrt.org