Ahhh, the magic of the circus — the clowns, the animals, the music and food all add up to a day of excitement and fun. There is just nothing like it — and it will be here soon. Thursday through Sunday, Feb. 10-13, the Ringling Brothers and Barnum and Bailey Circus presents Zing Zang Zoom Gold Edition "a magical circus experience, where just feet away from your seat you will enjoy high-fl ying excitement and pulse-pounding acts combined with performers of amazing courage and extraordinary skill!"
Jason Gibson is the production manager of this particular version of the greatest show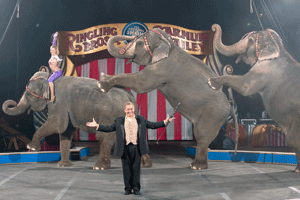 on earth and considers himself one of the luckiest people in the world to have such a great job.
"Even though I am one of the behind the scenes guys, I just love coming to Fayetteville," said Gibson. "It is great to be around the military and have a chance to make so many people smile."
Since this event is a little more intimate — it is a one ring circus, not the traditional three ring type — Ringling Brothers is able to offer the public a chance to meet the performers, including some of the animals at the pre-show warm-up, and it is included in the ticket price. For an hour before the show, ticket holders are invited to come to the arena fl oor and get up close and personal with the performers.
So you pay for two hours of excitement and get an extra one for free, Gibson noted.
"People can meet the performers, shake their hands, have pictures made with them and even try-on previous season costumes," said Gibson. "It is a chance to make a real connection with the performers and maybe even learn a trick or two. If you want to learn how to juggle, we can show you how. It is a really fun and amazing time for both the audience and the performers."
Suzy, one of their beautiful and majestic Asian elephants, makes an appearance at the pre-show and produces a work of art that some lucky circus goer will take home. Folks sign up, and at some point during the show, a name is called and the winner takes home a colorful elephant footprint, courtesy of Suzy.
"It is really cool because you are sitting just feet away from this gentle giant as she makes the art work, and then we are able to give it away during the show," said Gibson.
The event will include thrillusionist David Davinci, who in 2007 set a world record with an underwater free-diving card trick. To promote the Zing Zang Zoom opening, Davinci took to the air just a few weeks ago on Jan. 19 in Savannah, GA., hanging upside down from a hot-air balloon, in a straight jacket. He freed himself in just seconds. See it on youtube at www.youtube. com/watch?v=dE41lsoiE9Q.
During the circus, Davinci will attempt a similar feat, but one that is just as dangerous, as he attempts to escape a straitjacket while suspended three stories in the air above a den of lions.
"Since this is a one-ring show and we don't really have a ringleader, David provides continuity during the show, and acts as the host," said Gibson. "He performs several amazing stunts throughout the show."
Flying high is a common theme as Viktoriya and Windy, the Hairdaring Duo, perform an extreme hair hang an amazing 35 feet in the air and Sky- High Sensation Franclieb Rodrigues walks upside down, across the ring without a safety harness.
Trained house cats, yes, there is such a thing, are a crowd favorite, too.
"Watching them jump through hoops and perform tricks is so much fun and you can tell that the cats are having a really good time, too," said Gibson. "I think people really like that act because so many folks have cats and can relate to them."
Of course, there are clowns, three trained elephants, Kung Fu performances, motorcycle stunts and more.
Tickets start at $10 for children, and go all the way up to $55 for a VIP pass. Show times vary. Tickets are available at the Crown Box Offi ce and all Ticketmaster outlets. For more information, visit www.atthecrown.com.