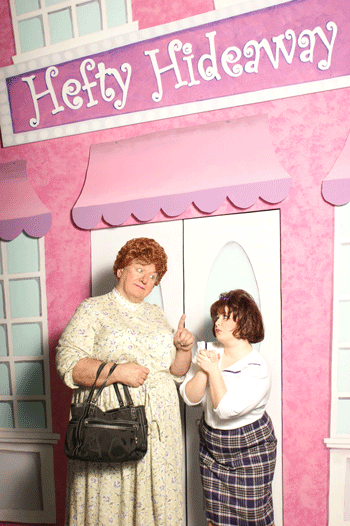 Have you ever sat in the theatre and had to physically restrain yourself from getting up and dancing? If not, then you obviously haven't made it to the Cape Fear Regional Theatre yet to see the musical production of Hairspray. Because if you had of found yourself sitting in the seats of the theatre, you would defi nitely have found your toes tapping and your hips twitching.
The latest production staged by the CFRT's talented staff is a certifi able box-offi ce hit. I caught the show on a preview night, and while the CFRT staff took great pains to explain that a preview is really just a warm up, other than some minor sound issues, I didn't see a lot to fault.
The cast, which has enough energy to light several city blocks, sang their hearts out, while dancing their butts off. The show, set in Baltimore in the '60s, has a rich dialogue that can make you laugh out loud, but can also break your heart. And the music, well as you read earlier, the music can also make you soar.
Director Tom Quaintance has done a great job of bringing a relatively young cast together in a very short amount of time. With just three or four weeks to pull the show together, Quaintance and crew should be extremely proud of the job they've done. The dancing, choreographed by Todd Michael Smith, an original member of the Broadway cast of Hairspray, was beautiful and very energetic. The cast Ponied, Mashpotatoed and Twisted their way throughout the twohour production.
The vocals were executed beautifully, and I've got to tell you this cast has some chops.
At center stage most of the performance was Amy Rowland, a student at the University of North Carolina-Pembroke, who plays Tracy, the chubby Baltimore teen who turns the town upside down with her big hair, her dancing and her desire to integrate the daily dance show. Rowland, a music major, spends four or five hours in class singing every day, and then comes to the theatre and puts on one heck of a show. The petite Charlotte native has a great vocal range and she has a really big voice for such a small girl.
Also getting high marks in the vocal department is Joy Ducree Gregory, who plays Motormouth Maybelle, the quick talking DJ, who spins records in her record store for the black teens, while the white kids dance on TV. Gregory, a Wilmington resident, stopped the show with her performance of "I Know Where I've Been," an epic song that refl ects on the changes she has seen throughout her life, and the changes yet to come. This performance had the audience sitting on the edge of their seats, and brought home the tensions and pain of that segregated time.
Fayetteville resident Alexis Dove Chieffet, playing Velma Von Tussle, did a great job of creating the character that everybody loves to hate. Her show-stopping moment came during the first act when she belted out "Miss Baltimore Crabs." This song and this scene are laugh-out-loud funny.
I would be remiss not to mention Richard Pruitt, a New York actor, who plays Tracy's mom Edna. Pruitt, a big teddy bear of a man, made the transition to Edna beautifully. His mannerisms were great, and his comedic timing superb. I really loved his interaction with Ken Griggs, a CFRT regular, who played his husband. The two played off each other nicely. Of particular note was their performance of "You're Timeless To Me."
The supporting cast did a wonderful job and put everything they had in the show. They seemed as energized at the end of the show as they were at the beginning. And that's saying a lot.
If you haven't made it down to the theatre yet to see this great production, don't worry, you still have time. The show runs through Feb. 13, but I would suspect if word-of-mouth works, tickets are going fast. So dance your way downtown so you can catch the beat and while the evening away with the "Nicest Kids" in town.
For show times and dates, visit www.cfrt.org.